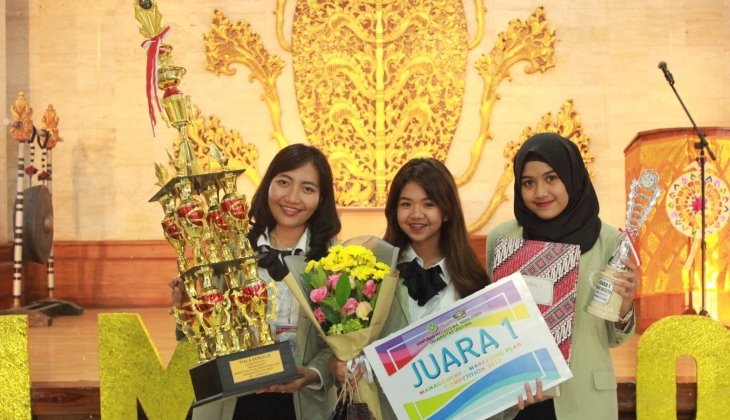 A student team from Faculty of Economics and Business Universitas Gadjah Mada succeeded to be the first winner in Management Marketing Plan Competition which was held by Management Students Association, Universitas Udayana, Bali from September 14 until 16, 2017 in Bali. The team consisted of three final year students of Management Study Programme, Erina Sofia Gudono, Anak Agung Indira, and Legahati Sekar Putri.
This year, Management Marketing Plan Competition 2017 raised Marketing Business Tourism in Bali as its theme. This competition aimed to enhance the participants' creativity in formulating a marketing strategy for the company's partners as well as enhancing the Bali Island's attractiveness. This year, the Competition was organised in collaboration with Krisna Holding Company, a subsidiary company of Krisna Funtastic Land which is located in Temukus Village, Bali. Various attractions and facilities which are provided at Krisna Funtastic Land become its main attractiveness.
Erina said the participants of the competition were required to make a marketing plan proposal with the main objectives of enhancing the awareness of Krisna Funtastic Land, increasing the number of visitors, and increasing the number of visitors who give recommendation to their relatives to visit it.
"The participants competed in making the right and effective marketing strategy according to the market's target of Krisna Funtastic Land," said Erina on Wednesday (6/12).
Finally, from hundreds of teams who submitted their marketing proposal in the elimination round, only 7 teams were selected to go to the final round. In the final round, top 7 teams presented their marketing plan at Universitas Udayana. These were Universitas Bina Nusantara, Universitas Tarumanegara, Universitas Prasetya Mulia, Universitas Indonesia, Universitas Surabaya, and Universitas Telkom. After passing the assessment stage where the score was calculated from various components, Team Ace of Spades from Faculty of Economics and Business UGM succeeded to become the first winner in the event.