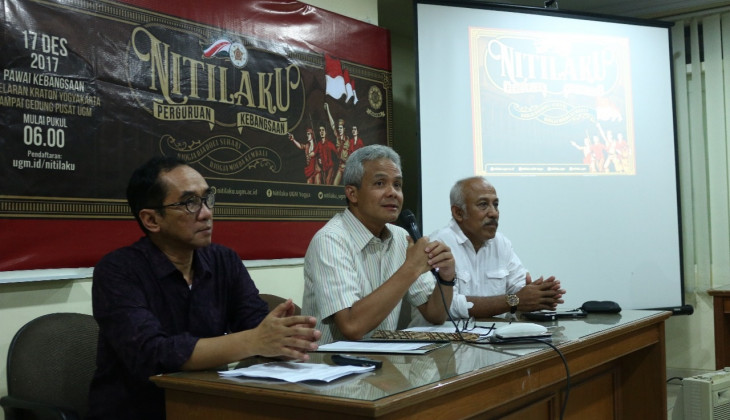 Alumni Association of Universitas Gadjah Mada (KAGAMA) will once again host the Nitilaku Perguruan Kebangsaan event for the sixth time. Nitilaku is a cultural parade that symbolises the history of UGM that at first had its campus in Keraton Yogyakarta palace to later moved to Balairung UGM. The event will see stages for perfomances of Indonesian culture. This is one of series of events of the 68th anniversary of Universitas Gadjah Mada to be held on 17 December 2017.
Event committee chairman, Drs. Hendrie Adji Kusworo, M.Sc. Ph.D., said this year the event had transformed into a cultural event that synergised the potential of UGM, society, private sector and government. Elements of historical struggle for the state as a nation and the diversity of the nation stand out in each of the year's event.
"Participants of the parade will wear a costume on independence theme as well as customary outfits from all parts of Indonesia," said Hendrie on Tuesday (5/12). He added it would be joined by 7,000 participants.
Hendrie explained along the track of the parade from Pagelaran Keraton Yogyakarta to Balairung UGM, the participants and society will be entertained by Indonesian traditional perfomances that are performed in 20 stages. At UGM, they will further be entertained by 21 performers to display cultural attractions in 5 stages.
"The performers are students, alumni, communities, as well as members of surrounding community," said Hendrie.
Chairman of KAGAMA who is also Central Java Governor, H. Ganjar Pranowo, S.H, M.IP., said the Association would continue to support events to be organised by UGM. This serves as KAGAMA's service to the university.
According to Ganjar, Nitilaku event raised the past history and local wisdom and enlivened the arts and culture in Yogyakarta particularly. Nitilaku becomes an interesting event where alumni participate in it to show their works in various sectors. "Hopefully, the event will be able to show that KAGAMA does not forget the role of the university in their achievements so far," he said.