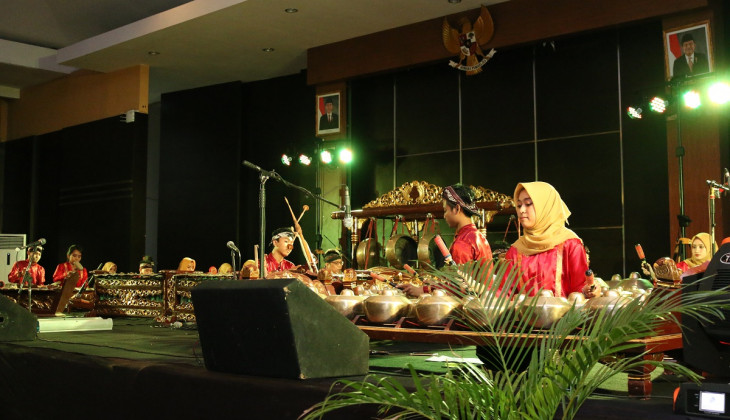 To celebrate its 68th anniversary, Universitas Gadjah Mada hosted Gamelan (Javanese orchestra) Festival, Kumandhang Gangsa Gadjah Mada 2017, raising the theme Local Culture in Diversity. Various performers groups will show their arts, including Gamasutra, Swagayugama, Sekar Laras, Psycorawitan, Grup PKKH, Kintaka Pusaka, Gasita, and Prasasti. The Festival was open and free for everyone on Saturday (9/12) in the University Club, UGM.
Coordinator of the Festival, Raden Bima Slamet Raharja, said the Festival was the first gamelan festival to celebrate UGM anniversary. Bima explained the kumandhang gangsa was meant as the effort to voice and rejuvenate gamelan, especially at the university. According to Bima, the event could give room to appreciate gamelan groups from UGM.
"The Festival is expected to be the media for gamelan groups at UGM to showcase their skills," he said.
Rector of UGM, Prof. Ir. Panut Mulyono, M.Eng., D.Eng., who opened the festival appreciated the event this year as it was a form of effort to realise the identity of the campus as the university of cultural centre.
"Hopefully, the event would run well and we continue to sustain the gamelan tradition," said the Rector.
The Festival was welcomed by the audience. Tri Okta Kartika, Cultural Sciences student, said she appreciated this event very much. In her views, this was very interesting and rare to find. Another student, Irfan Radityo, hoped similar festivals would be held in the next years.