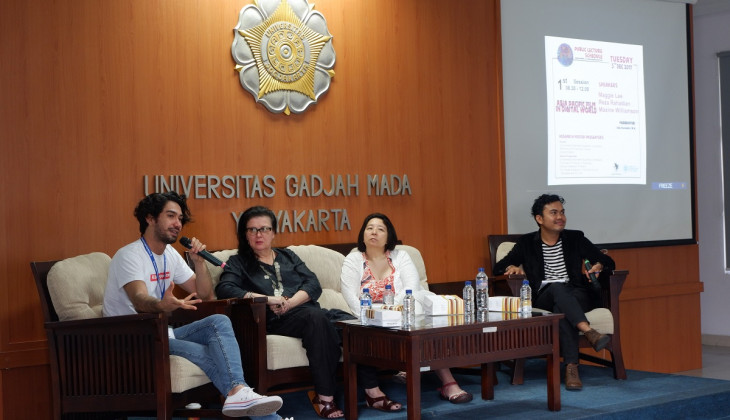 Centre for Southeast Asia Social Studies (PSSAT) Universitas Gadjah Mada collaborating with Jogja-Netpac Asian Film Festival (JAFF) hosted a Public Lecture from 4-6 December 2017 in the UGM Library.
There were six sessions of the public lecture, namely seminar, discussion, book launching, and presentation of poster research. The forum raised themes of the JAFF and presented seminars titled Fluidity, Film and Art Performance, Indonesian Film Audience, Asia Pacific in the Digital World, Distribution and Film Funding, and ASEAN Identity in the Short Films. There was also discussion of a book titled Film, Ideology, and Military by Budi Irawanto and Cultural Specificity in Indonesian Films: Unity in Diversity by David Hanan.
The Public Lecture this year is more special thanks to the presentation of research poster about Asian cinema that is managed by the PSSAT UGM. Following this, as many as 9 presenters were selected from Indonesia, Malaysia, and the Philippines. Director of JAFF who is also a lecturer from UGM, Budi Irawanto, explained the Public Lecture has been the tradition of JAFF as the forum to exchange ideas and create a film discourse.
The Public Lecture also discussed identity influence of Southeast Asia on the making of short films. Wregas Bhanuteja, the director from Yogyakarta whose short film had won an award in Cannes Film Festival said his Javanese identity had very much affected him in the film making.
The issue of loosening identity is also depicted by director Amanda Nell Eu from Malaysia that opts to bring to the forefront the strong character of women in the film Pontianak (Kuntilanak) or Kali in the Hindu tradition.
Furthermore, popular actor Reza Rahadian commented the influence of short films that tend to get marginalised compared to long films.
"There is the spirit to encourage young filmmakers to produce short films, but there's also the gap between the short film and the market. A case also happened in Australia where there was a competition being held for short films, but the government had cut the funding for them," he lamented.
Meanwhile, the public lecture presented speakers including Reza Rahadian, Hanung Bramantyo (director), Tony Rayns (director and critic), Rukman Rosadi (lecturer from Institut Seni Indonesia), Dyna Herlina (lecturer from Universitas Negeri Yogyakarta and co-founder of JAFF), Meiske Taurisia (producer), Maggie Lee (critic), Maxine Williamson (director of Brisbane International Film Festival), Wregas Bhanuteja, Lisabona Rahman (critic and observer), Agung Sentausa (Badan Perfilman Indonesia), Anocha Suwichakornpong (director), Amanda Nell Eu, Sabrina Baracetti (president of Udin Far East Film Festival), David Hanan (academician from Monash University), and Budi Irawanto.