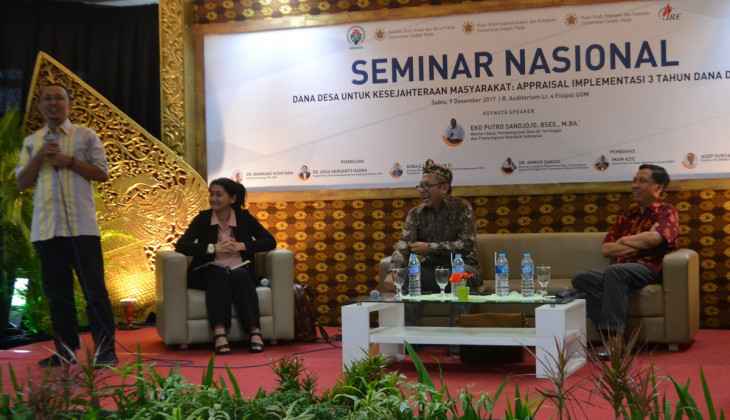 Rural development funding disbursed by government to some 74 thousand villages for the past three years is considered to have brought dynamic change to rural development, especially, in terms of public facilities, social services, and community empowerment. Even so, participation from the community needs to be increased, prioritising on transparency of rural funding management. This emerged in the seminar themed Rural Funding for People's Welfare: Appraisal of Implementation of Rural Funding Programme at the auditorium of Faculty of Social and Political Sciences UGM on Saturday (9/12).
The seminar organised by Faculty of Social and Political Sciences UGM and Rural Development Ministry presented speakers, such as Secretary General of the Ministry, Dr. Anwar Sanusi, Head of Centre for Demography and Policy Studies, Dr. Agus Heruanto Hadna, Anthropology UGM lecturer, Dr. Bambang Hudayana, and Executive Director of Institute for Research and Empowerment (IRE), Sunaji Zamroni, M.Si.
Dr. Bambang Hudayana revealed the outcomes of research into 20 villages that there were positive findings in the society due to the rural development funding programme. Most of the funds were used to build public facilities, basic social services, community empowerment, and economic development. "In Sumatera, Maluku, Kalimantan, and Sulawesi the change is especially felt related to physical facilities," he said.
There were also creativity and innovation for the use of such funding, such as for home renovation or nurse assignment and capital provision for widows, widowers, and senior citizens, as well as scholarships for undergraduate programme.
According to Bambang, the use of rural development funding was encouraged to engage public participation more. "There was some criticism that such funds had been used just by the elite in the village, but this needs to be resolved soon whilst transparency is encouraged," he said.
Director of IRE, Sunaji Zamroni, M.Si., commented the technical regulations of rural developmend funding from the government were incoherent and not yet synchronised that made it difficult for the region to implement the programme. "Often this would drain the resources of the village just to serve rural development funding administration," he said.
In his opinion, rural authorities were more occupied in doing the administrative duties of such funding than community enhancement for the implementation of such programme. The existence of this funding, however, has sparked new dynamics and positive changes in the village.
Meanwhile, Agus Heruanto Hadna assessed the government need to avoid top-down policy in implementing the rural development and respecting the creativity and innovation arising in the village. "There should not be a uniformed programme from the central government," he concluded.