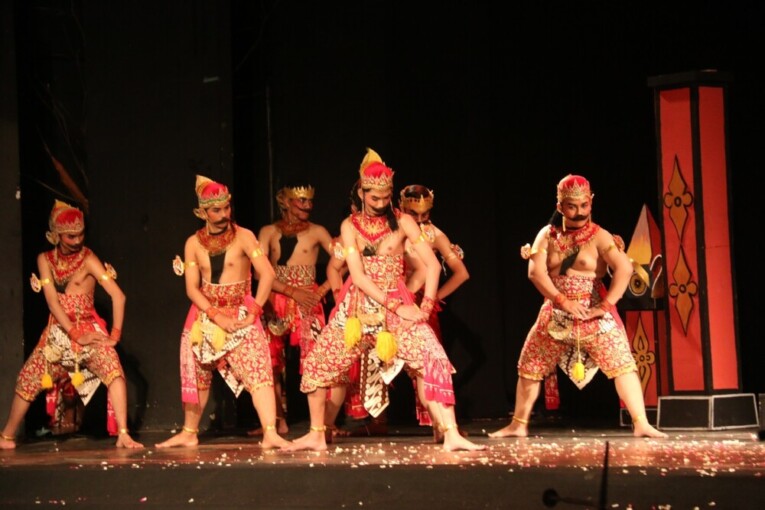 Surakarta Style Javanese Art Unit (UKJGS) of Universitas Gadjah Mada students succeeded to hold a collaborative traditional shadow puppet show and human plays (wayang orang), titled Rama Bargawa. The performance was purposely held to celebrate the 68th anniversary of UGM as well as the 49th anniversary of the student unit. There were at least 100 alumni and the unit's members who were involved in this performance. Hundreds of people attended this collaborative traditional show that was held on Saturday (16/12) at Koesnadi Hardja Soemantri Cultural Center, UGM.
Rama Bargawa is a story with the background of Maespati Palace. The story tells about a law enforcer who had to punish his mother because she had committed adultery and violated the law. Bargawa was in doubt when he found his mother had violated the law. As a law enforcer, he had to obey the law or save his mother. The producer of the collaborative traditional shadow puppet and human show, Faizal Noor Singgih, explained the inner conflict being experienced by Bargawa where he had to choose between obeying the law or saving his mother from punishment.
Finally, Bargawa chose to obey the law and punish his mother. According to Faizal, Bargawa's choice shows that law has to be obeyed by everyone and all of us are same in front of the law. Bargawa gives an example of how a law enforcer has to do his job. Bargawa is responsible for his position as a law enforcer although he experienced an inner conflict.
"From Bargawa, we learn how to be responsible for the choice we make," said Faizal.
The Chairman of Surakarta Style Javanese Art Unit, Fajar Timur, said currently, people begin to not be interested in a human show. On the other hand, the human show is also rarely held. Therefore, the student unit held this show by collaborating it with the traditional shadow puppet show.
"It shows a good result where many of the young generation come to watch the show," said Fajar.
A positive response was delivered by Puspa Srigusti Ayu, a student from Vocational School UGM. Puspa delivered her appreciation towards this collaborative show. Meanwhile, another person in attendance, Febi Majesta, said she was glad for the performance. Febi hopes this kind of performance can be routinely held in the next years.