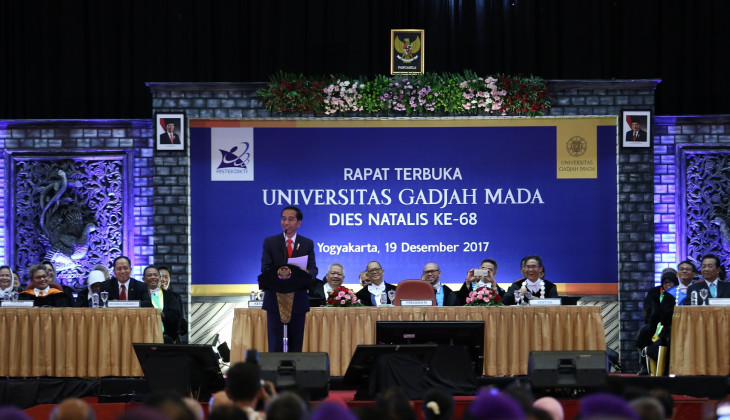 President Joko 'Jokowi' Widodo gave a public lecture during the 68th anniversary of Universitas Gadjah Mada (UGM) in Grha Sabha Pramana UGM on Tuesday (19/12). The President opened the lecture by telling a sweet memory when he became a student of Faculty of Forestry UGM 37 years ago. "When I arrived in the UGM compound, I remembered 37 years ago when I was studying here and I had long hair and wore flare pants," said the President that prompted laughters among the audience.
'Jokowi' told the audience that he had once wanted to be staff working at Forestry Agency. But his destiny said otherwise. Then he became a businessman, which later led him to become a state leader. "Formerly, I wanted to be Forestry Agency's staff, but I couldn't make it, and instead I became President," he said.
According to 'Jokowi', everyone might aspire to be anything, but God would decide their fate. "You can have aspiration, but God decides," he said.
He said what he had achieved now was not apart from his lecturers' role whilst he was studying at UGM. They had taught the students to always contribute to society and the nation. "That's because UGM always asks its alumni to love Indonesia, love Pancasila, have the heart for the people, and instill professionalism," he said.
The President further expected UGM not to get trapped in routines, instead to encourage graduates to have entrepreneurial spirit and generate sociopreneurs to anticipate rapid technology changes. "I hope higher education can improve its role to develop entrepreneurship and sociopreneurship, UGM can be the driving force for entrepreneurship, not just doing routines," he said.
He continued that the growth of entrepreneurs in Indonesia was still very low. He said currently Indonesia's entrepreneurship level ranks 90th among 137 countries, in Asia Pacific region Indonesia ranks 16th among 24 countries.
To improve the number of young entrepreneurs, according to 'Jokowi', was not just the challenge for government but also university's responsibility to generate excellent human resource that produces innovative research, and encourages entrepreneurial spirit among alumni. "This change and challenge is not easy, but I'm convinced that UGM can do it," he said.
Afterwards, Rector of UGM, Prof. Ir. Panut Mulyono, M.Eng., D.Eng., in the Rector's Report 2017 said UGM would continue to improve its education quality. In the past year, said Rector, UGM ranking was up from 501 in year 2016 to 402 in 2017 in the world. UGM academic reputation ranks 203rd in the world. "UGM has entered the category of 1.5% of best universities of 26 thousand universities in the world," he said.
The student's role, said the Rector, made UGM proud, too. Along year 2017, the students have won 121 international competitions, 631 national competitions, and 116 regional, and local victories.
The Rector further reinstated the commitment of UGM in developing innovative works to boost state's competitiveness. UGM has established a science techno park for chocolate industry in Batang regency, Central Java, measuring 4,000 m sq that will be running in 2018. According to the Rector, this factory would produce chocolate products with Indonesian flavours that will be liked by international and domestic consumers. "Through the construction of chocolate factory, we want to seize chocolate import markets," he said.
In health and medicine, UGM has developed health tools and products, including ceraSpon, NPC Strip, INA Shunt, and bone substitution Gama-CHA, and stent product.
Despite these outcomes, said the Rector, downstreaming of these innovative products were not easy to do as there were still barriers, such as bureaucracy, lack of government support for local product innovation, and non-optimal involvement of industry in the downstream and upstream businesses. "The support from the government is very much needed," he said.