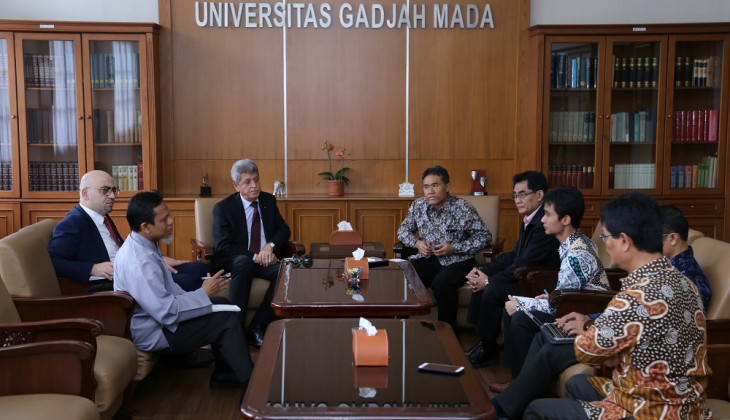 Palestine is looking for an opportunity to build cooperation with Universitas Gadjah Mada (UGM) on educational sector.
Discussion regarding the cooperation was held during the visit of Palestinian Ambassador to Indonesia, H. E. Zuhair SM. Al Shun, to UGM on Friday (5/12). The visit was welcomed by UGM Rector, Prof. Ir. Panut Mulyono, M.Eng., D.Eng.
Zuhair said Palestinian government encouraged their students to continue their study at UGM. Currently, there are 6 students who are studying at Graduate School UGM. Meanwhile, seven other students had succeeded to graduate and obtain Master Degree from UGM.
Zuhair hopes the number of students from Palestine who continue their study at UGM can keep increasing.
"We hope UGM can provide scholarships for Palestinian students who continue their study at UGM," said Zuhair.
Panut said all this while, UGM obtains a scholarship from the central government for international students through developing countries partnership programme. However, there is no Palestinian student who studies at UGM through that scholarship programme.
In addition, Panut said UGM was currently planning a scholarship programme for international programme. The scholarship will be provided for international students who want to pursue their study at Graduate School UGM.
"We plan to provide a scholarship for UGM's international students. It's not impossible that some of them come from Palestine," said Panut.