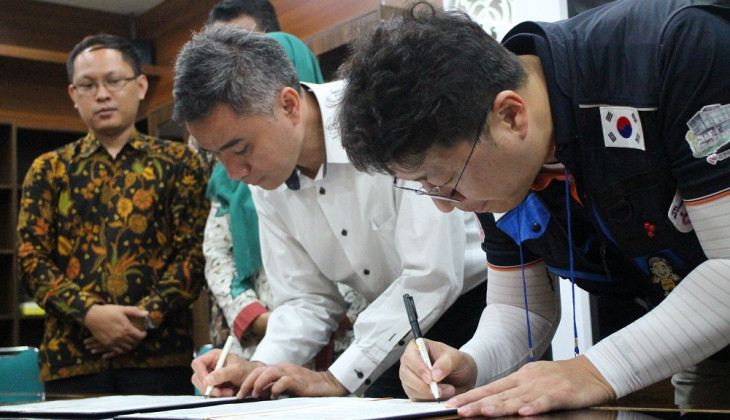 Vocational School Universitas Gadjah Mada and Jeonju Volunteer Center (JVC) Korea strengthen their cooperation in socio-cultural sector.
The cooperation was marked by the signing of Memorandum of Understanding (MoU) by the Dean of Vocational School, Wikan Sakarinto, S.T., M.Sc., Ph.D., and the Director of JVC, Park Jeong Seok, on Monday (22/1) at Vocational School UGM.
The cooperation which was initiated by Korean Language Diploma Programme aims to plan a regional development by spreading volunteering culture as a form of togetherness.
Previously, JVC which is a social organization that focusses on children in all over the world and Vocational School UGM had conducted a cooperation in the same sector. In 2017, they held a social activity at Patuk II Elementary School which is located in Gunungkidul Regency, Special Region of Yogyakarta. The volunteer students from JVC conducted social service by improving the school's infrastructure as well as teaching Korean cultures and language for two weeks. The students from Korean Language Diploma Programme UGM also participated in the programme as an interpreter for the volunteers.
Park Jeong Suk said JVC had conducted many social activities in various countries in Asia Pacific region. Those activities not only focus on education sector but also volunteering programme in nursing homes, disaster areas, and so forth. Its members consist of students from several universities in Korea. Every year, they routinely visit 11 countries in Asia Pacific region, including Indonesia. "In Indonesia, we focus on educational sector," said Park Jeong Suk.
Wikan gives a positive response toward the cooperation. He hopes the cooperation will continue to be developed in the future.
"I hope this cooperation can be developed in the future. Not only Korean students visit Indonesia but also our students will be able to visit Korea," said Wikan.
On the other hand, the Head of Korean Language Diploma Study Programme, Supriadianto, S.S., M.A., said he was ready to help JVC in conducting their social activities in Indonesia.
"If JVC needs help to look for a place to conduct their social activities, Vocational School UGM is ready to help and our Korean language students will be involved in the activities," said Supriadianto.