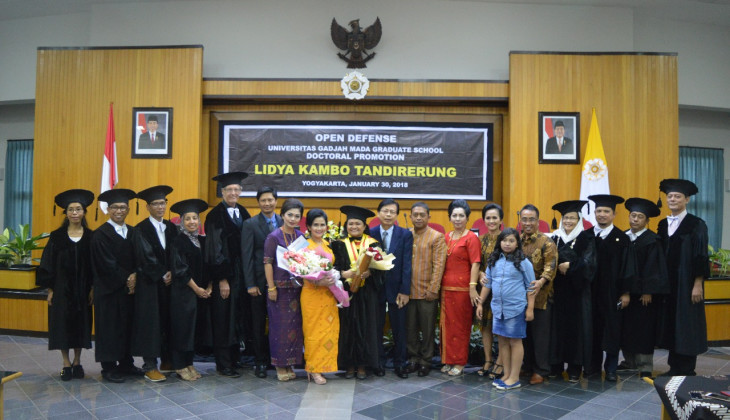 A Doctoral Student from Graduate School UGM, Lidya Kambo Tandirerung conducted research regarding the collective memory of Toraja people regarding religious coercion by Darul Islam/Indonesian Islamic Army (Indonesian acronym: DI/TII).
The memory regarding the rebellion by Indonesian Islamic Army who was led by Abdul Qahar Mudzakkar, according to Lidya, occupied a diverse locus of memories in South Sulawesi, both in socio-political and ethnic-religious discourses.
"The memory of religious coercion and the other violence toward those who refused the religious coercion became a memory which was inherited for the next three generations and turned into a collective memory," said Lidya during an open examination for Doctoral Programme on Tuesday (30/1).
Her research regarding collective memory was considered as a new study and it was strongly related to psychology, sociology, and anthropology. Collective memory, according to Lidya, is how we use the current interest picture to reconstruct the past.
Theoretical frame from this research helped us to see how the movement of Indonesian Islamic Army in South Sulawesi was, political ideology and their religion, as well as its existence in Tana Toraja from 1950 until 1965. It became a collective memory which formed an ethnic-religious identity of Toraja people. Through this research, Lidya would prove that collective memory required sustainable intake from collective sources.
Lidya said collective memory from the religious coercion by Indonesian Islamic Army had established a representative identity of Toraja people both culturally, religiously, and politically. It showed the effectivity of identity construction based on collective memory.
Collective frame in processing memory construction is an instrument that continues to be supplied by a dominant perspective in the community. Memory encourages the current political dynamics and its realization is determined by the pattern of power and it activates the constellation of the memory-history-identity cycle.
This research gives a contribution on how collective memory is built and how memory is important for Toraja people in constructing their ethnic-religious identity. The pressure on collective memory reproduction forms an ethnic-religious identity, helps them to understand how the current imagination is built.
"Practically, the knowledge born from this research will equip Toraja people in understanding their ethnic-religious identity more inclusively," said Lidya.