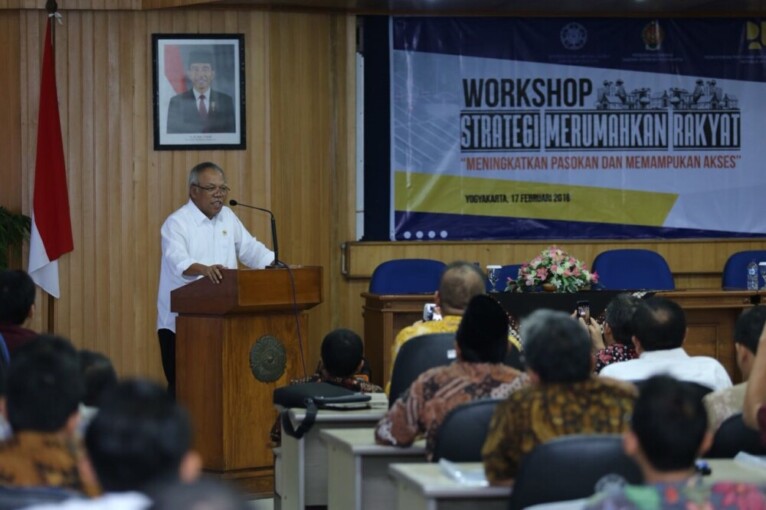 Public Works and Housing Minister, Basuki Hadimuljono, said Indonesia was still facing home provision problems due to low supply and difficult access for low income residents.
To resolve the problem, he asked academics to help find solutions and recommendation for government to take action. "Change comes from university and innovations are expected to arise from the university," he said when opening a workshop themed Strategies for Building Homes for People on Saturday (17/2) in Civil Engineering and Environment Department at UGM.
Minister Basuki revealed goverment response to public housing procurement through the one million homes programme launched by President Joko Widodo in 2015. Until 2017, the Ministry has built 13,251 units of flat, independent homes 110,019 units, special homes 5,047 units, and stimulant homes 74,106 units.
He said this figure would be increased to meet the increasing demand of homes. He further asked the support from stakeholders to make innovation in the home building in terms of provision, funding, technology, etc.
In response, Rector of UGM, Prof. Ir. Panut Mulyono, stated the commitment of UGM to contribute to the problem solving through education, research, and community services programme.
He said UGM was ready to assist the government in creating breakthroughs to improve the quality of life of the people as well as minimising environmental impacts.
He pointed out the effort by UGM that was planning to build a teaching industry in Kulon Progo regency which will produce construction technology that can support the government's programme.
"Currently, we are trying to realise the teaching industry to be a hub between academics and industry for research downstreaming from UGM, which includes construction industry to be utilised by the wider public," he said.
Finally, a ground breaking of the CIvil Engineering and Environment new building construction was done, followed by cooperation agreement signing by Faculty of Engineering UGM and Bank Tabungan Negara (BTN) Persero Tbk for training programme, consultation on development of property and research that support housing finance center services. The signing was done by Dean of Faculty of Engineering, Prof. Ir. Nizam, M.Sc., Ph.D., and R. Mahelan Prabantarikso Managing Director Strategic, Compliance and Risk of BTN, witnessed by the Rector.