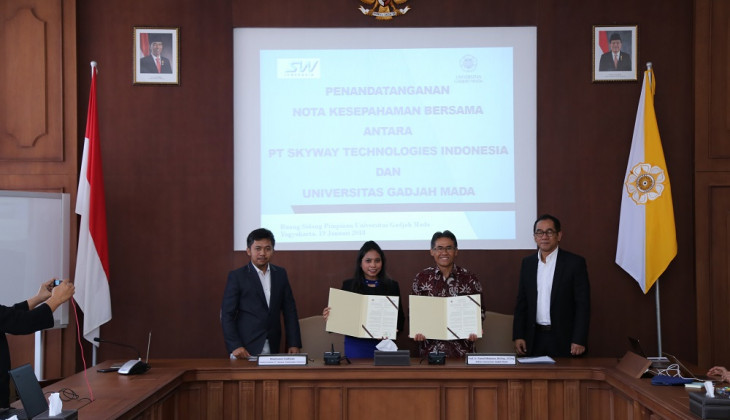 Universitas Gadjah Mada and SkyWay Technologies Indonesia built cooperation in education, research, and community service, particularly innovation development in transportation sector.
The cooperation was marked by the signing of Memorandum of Understanding between UGM Rector, Prof. Ir. Panut Mulyono, M.Eng., D.Eng., and Country Director of SkyWay Technologies Indonesia, Madinatul Fadilah, on Monday (19/2) at UGM main office.
Madinatul Fadilah said SkyWay Technologies Indonesia has built cooperation with several organisations in Indonesia in technology implementation to address transportation issues. The cooperation with UGM is expected to provide solutions for national transportation problems.
"We hope the cooperation can be well-implemented in the future," said Madinatul Fadilah.
On the occasion, SkyWay Technologies Indonesia also launched CSR programs in the form of scholarship and internship for UGM final year students. Those programs, according to Madina, are the efforts to transfer knowledge rapidly to the young generation.
"Therefore, Indonesia will not be seen as an end user but as producer and owner of technologies," she added.
UGM Rector gave a positive response to the cooperation. According to Panut, transportation is an urgent matter to be solved considering the condition of the community's mobility which continues to increase in line with technology development and prosperity. Therefore, in order to address traffic jam, it requires development of engineering, transportation, and other sectors.
"Innovation in the transportation sector is one of the ways to facilitate the goods and people transportation. Therefore, innovation has to be enhanced in Indonesia and new transportation mode and other sectors have to be created," said Panut.
On the occasion, Panut also delivered his gratitude toward SkyWay which has provided support through CSR programs for UGM students. Panut said UGM is a learning place for students who do not only come from middle-upper class but also underprivileged families.
"Around 30 percent of UGM students come from underprivileged families and need support from others," he added.
Panut also hoped the cooperation would be developed in other sectors. "The cooperation is expected to give many benefits to UGM and SkyWay Technologies Indonesia as well as the nation," said Panut.