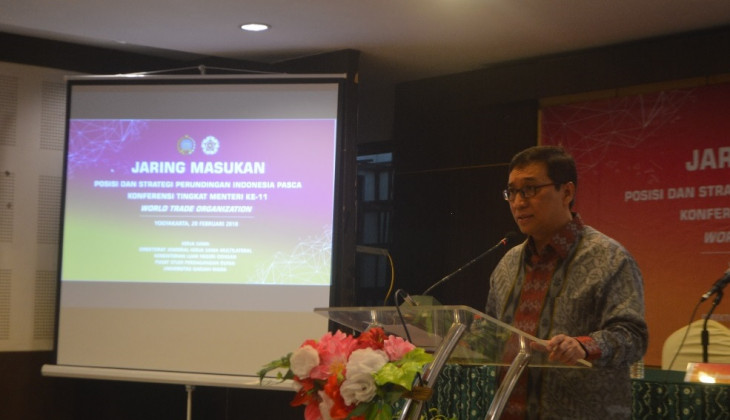 Indonesian government is expected to fight for the food security issue in the World Trade Organisations (WTO).
This emerged in a seminar themed Position and Strategy of Indonesia after WTO's 11th Ministerial Conference in University Club (UC) UGM on Tuesday (20/2).
The event that was organised by UGM Centre for World Trade Studies and Directorate General for Multilateral Cooperation in the Foreign Affairs Minister presented keynote speakers, Febrian Alphyanto Ruddyard, Multilateral Cooperation Director.
Febrian said the 11th Ministerial Conference in Buenos Aires discussed three main issues, namely fishery subsidies, food availability, and electronic trade. But they had yet to reach an agreement in terms of food availability. Even so, Febrian emphasised the importance of maintaining the national policy in the WTO.
"Through the forum it is expected that government and academicians may share thoughts that lead to solution finding to future challenges emerging in the next Ministerial Conference," he said.
Meanwhile, Vice-Rector for Research and Community Service, drg.Ika Dewi Ana, M.Kes., Ph.D., explained the UGM commitment and focus in supporting the state sovereignty through various areas. Among others, this was realised in the establishment of teaching industry in year 1964 through PT. Pagilaran, a business unit in tea plantation.
"Along with government agencies and industry, UGM focuses on upholding the sovereignty of the state in various areas," she said.
During the event, launching was done of the blueprint of Indonesian diplomacy in the WTO. The blueprint contains general strategies, WTO developments, and road map of human resource in WTO talks.
The seminar also presented speakers such as Director for Trade, Commodity and Intellectual Property Right in the Foreign Affairs Ministry, Tri Purnajaya, and Head of Foreign Cooperation Bureau in the Agriculture Ministry, Mesah Tarigan.