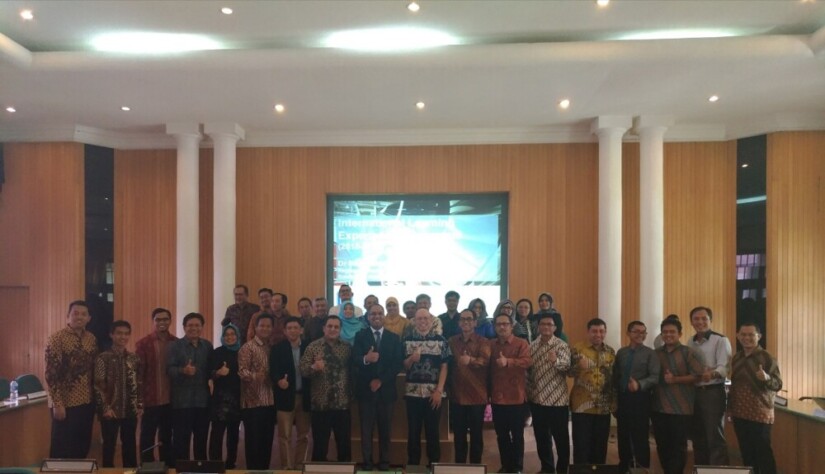 Serving for the national interests and humanity is one of the points contained in UGM's vision and missions. All this while, UGM has been actively dispatching its academic community to rural areas in order to conduct community services and to expeditions, including the Student Community Service programme as well as expeditions held by UGM nature enthusiasts.
UGM student succeeded to be chosen as a representative to join the expedition in Papua Peaks Festival. Ahmad Fikri, a second-year student from Environmental Geography, Faculty of Geography UGM, is chosen to be one of five mount climbing volunteers who are selected from all regions in Indonesia. Ahmad who is currently active as nature enthusiast of UGM will climb Mount Mandala (4,760 meters above the sea level) which is located at Bintang Mountainous Regency, Papua. The expedition entitled Climbing to Educate is held by Association of Wilderness and Mountain Climbers (Indonesian acronym: WANADRI), collaborating with Indonesia Mengajar (Indonesia Teaching). Ahmad and other volunteers will conduct the expedition from April 9 until 25, 2018.
Papua Peaks Festival is an art and cultural exhibition which includes climbing two peaks in Papua, Mandala Peak and Yamin Peak (4,500 meters above sea level).
"Aside from mountain climbing, there will be live-in with various focus, including teacher training, health quality enhancement, environmental and socio-anthropology data collection, medicinal plants cultivation training, as well as village budget management," said Ahmad on Thursday (22/2).
Papua Peaks Festival invites Indonesian people who have the spirit to make a better education and explore the eastern part of Indonesia, namely Papua. This festival is expected to open access to education and tourism in Bintang Mountainous area. In addition, this event is also expected to inspire the children who live in the expedition area, thus they can get inspired by the adventurers who come from various professions and chase for their own dreams.