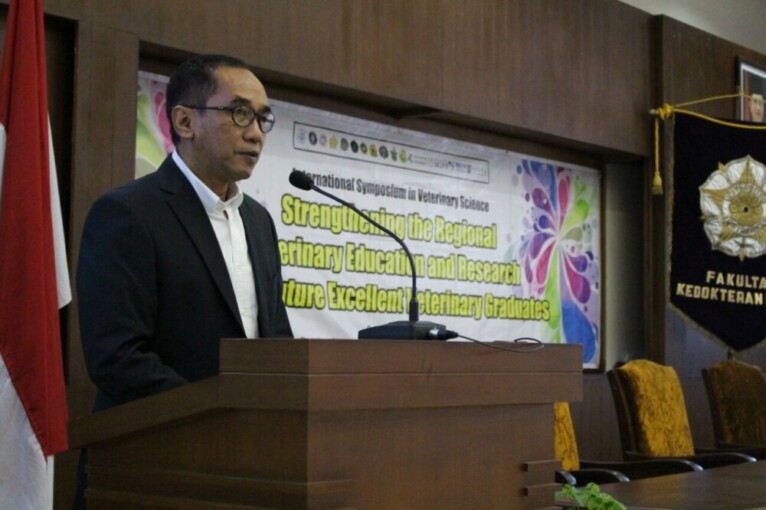 Faculty of Veterinary Medicine UGM in collaboration with Association of Japan-Indonesia Veterinary Education (AJIVE) have successfully hosted International Symposium in Veterinary Science themed Strengthening the Regional Veterinary Education and Research for Future Excellent Veterinary Graduates.
The Symposium was joined by eleven veterinary medicine faculties across Indonesia. Speakers include Prof. Fusanori Miura (Vice President of Foreign Affairs, Yamaguchi University), Prof. Byeong Chun Lee (Seoul National University), and Prof. Hair Bejo (Putra Malaysia University). The event that ran on Wednesday (28/2) at Faculty of Veterinary Medicine UGM was opened by UGM Vice- Rector for Cooperation and Alumni, Dr. Paripurna, S.H., M.Hum., LL.M.
The symposium had three categories, veterinarians and students, seminar and poster, and seminar and oral presentation. Posters and full papers that are selected in the symposium will be published in a proceeding.
Participants also held discussion on plans for joint cooperation between Vet School Japan and Indonesia that will apply programme including quality enhancement based on international quality standard, breeder community empowerment, and doctoral study opportunities as well as exchange programme. They will further establish an association of Vet Schools between Indonesia and Japan.
The symposium is expected to follow up the other collaborations between UGM and the ten other universities with AJIVE.