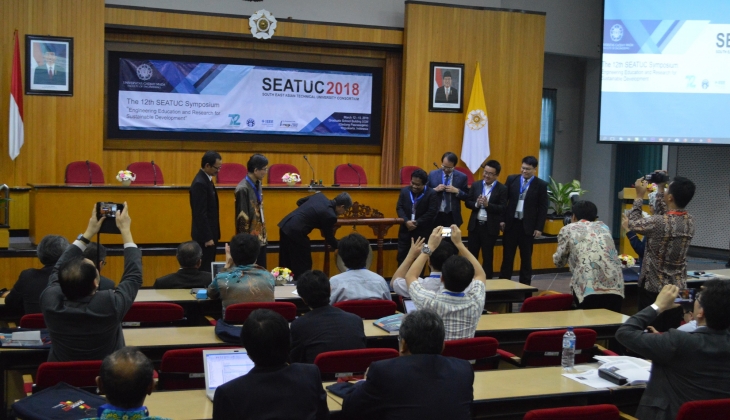 Universitas Gadjah Mada hosted the 12th South East Asian Technical University Consortium (SEATUC) 2018 symposium themed Engineering Education and Research for Sustainable Development from 12-13 March 2018.
It was followed by Shibaura Institute of Technology (Japan), Hanoi University of Science and Technology (Vietnam), Ho Chi Minh City University of Technology (Vietnam), King Mongkut's University of Technology Thonburi (Thailand), Suranaree University of Technology (Thailand), Universiti Teknologi Malaysia (Malaysia), Institut Teknologi Bandung (Indonesia) and UGM.
The event coincided with the 72nd anniversary of Faculty of Engineering UGM and International Annual Engineering Seminar (InAES 2018).
Rector of UGM, Prof. Ir. Panut Mulyono, M.Eng., D.Eng, who opened the event at UGM Graduate School on Monday (12/3), said that the "Symposium is an opportunity for researchers and practitioners joining SEATUC to share ideas and experience to advance science and technology." He said the event highlighted the importance of education and research, which are the main mission of UGM.
Event chairman, Dr. Indra Perdana, said there were 190 papers to present at the SEATUC 2018, coming from Japan, Thailand, Vietnam, Malaysia, and Indonesia. He added that the topic of discussion include Biotechnology and Life Sciences, Earth Science and Geomatics, Engineering Education, Green Advanced Materials, Green and Smart Transportation System and Green Energy System. Others were Hazard and Risk Management, Information Technology, Smart Systems and Automation, Sustainable Building and Infrastructure, Sustainable Environment and Sustainable Urban and Regional Planning & Development.
Indra Perdana added that leaders of SEATUC would also share ideas and plans for future collaborations.
Meanwhile, Dean of Faculty of Engineering, Prof. Dr. Nizam, said technology had indeed driven advancement and development, but it should not damage sustainability.