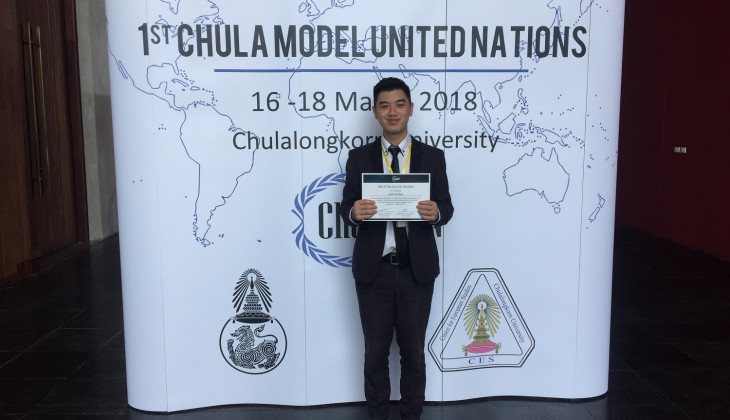 Students of Universitas Gadjah Mada have made another international achievement. International Relations student, Angelo Abil Wijaya, has been the Best Delegate in Chulalongkorn Model United Nations 2018 that last from 16-18 March 2018, hosted by Faculty of Political Science of Chulalongkorn University in collaboration with Center for European Studies, Chulalongkorn University.
The conference was joined by over 100 participants from various countries. Angelo was the only Indonesian delegate there. He proposed the idea and solution to global problems on international security.
"I feel happy and proud with this award," said Angelo on Wednesday (21/3).
Angelo said in the conference participants simulate UN sessions. They did diplomacy, negotiation, and drafted resolution containing solution to global issues on international security.
In the event Angelo became the Brasilian representative in the UN General Assembly First Committee. Two topics were discussed in the forum, international regulations for Unmanned Combat Aerial Vehicles (UCAVs) or combat drones, and increased cyber-security in international level cyber-space.
"To be able to participate, participants have to do an overall research whilst having skills in writing, negotiation, and public speaking," explained Angelo.
Furthermore, Angelo explained that the main goal of the conference was to adopt new resolution related to ideas proposed in the regulation of use UCAVs and increased cyber-security. This resolution was put into concrete ideas for the UN member countries to ensure that international security might be attained through disarmament.
According to Angelo, the international conference was very beneficial for the young generation. He said along the hosting of the event, meetings between delegations became a good opportunity for sharing ideas.
"The interaction that arose facilitited idea and solution sharing to address global problems, especially related to international security," he said,
k