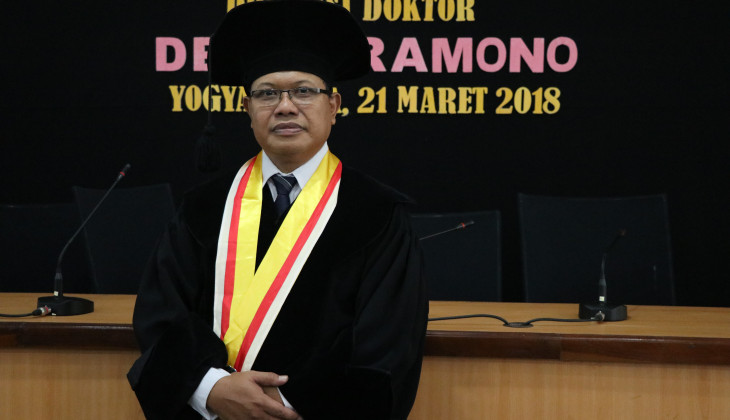 Habiburrahman El Shirazy is one of popular Indonesian writers due to his works such as Ayat-Ayat Cinta (2004), Ketika Cinta Bertasbih (2007), and Dalam Mihrab Cinta (2010).
His success in becoming one of Indonesian leading writers is influenced by various aspects, including his ability to place his works in the midst of power that was changing.
"Habiburrahman El Shirazy came not from legitimate literary circle. He is from the santri (Muslim) circle that his success is seen as a result of the change in the literary structure arena and power arena in Indonesia," said Dedi Pramono when sitting for his doctoral examination at Faculty of Cultural Sciences UGM on Wednesday (21/3).
The arena of power in Ayat-ayat Cinta, for example, hovers over contradicting issues such as rich and poor, Muslim and non-Muslim, male and female, piety and secularity, as well as justice and injustice in socio-religious, legal-religious, and political legal aspects.
"In this position, the main agent of plot is placed as the middleman that can resolve those problems in a peaceful way," said the lecturer of Universitas Ahmad Dahlan Yogyakarta.
In terms of contents, said Dedi, the novel of Habiburrahman El Shirazy rejects religious radicalism which comes in the form of the defence of non-Muslims who are treated arbitrarily and have the role to straighten the misunderstanding of Islamic rituals that are seen as a burden.
"The face of Islam offered in the cultural product is the Islam that is disciplined in seeking for knowledge, devout in religious duties, friendly in social life, loving in friendship, respecting marriage, and building resilience during injustices," he said.
In terms of literary value, Habiburrahman El Shirazy came into being in the condition of Indonesian literature that opposes two poles, serious literature and popular literature. As a new writer, he is able to produce works that have become best-selling novels among a society that has capital and strategy.
Realising the popularity was short-lived, Habiburrahman aimed to extend this through trajectory strategy in the form of discussion and idea transformation from novel to film, and reproduction strategy with new works.
"The trajectory strategy and reproduction do not much differ from what has been done by other writers such as Andrea Hirata, whose novel was filmed and new novels reproduced," said the man born in Cirebon.
The extent of trajectory activity that covers entire Indonesia, even overseas, has been affected by his strategy to use Muslim young writers community, Forum Lingkar Pena (FLP). This has greatly influenced the accumulation of big economic capital, wider social capital, cultural capital in terms of more intensive literary knowledge, whilst earning accumulation of symbollical capital such as the title of 'Islamic novel that grows the soul'. These all have spurred his immense success.
"Habiburrahman El Shirazy did not feel he had to renew in terms of literary forms and contents as a prerequisite to earning such specific legitimation. He has tried more to make his works read by many people with the goal of the reader being more pious with good attitude, in line with the goal of Islamic missionary literature," said Dedi.