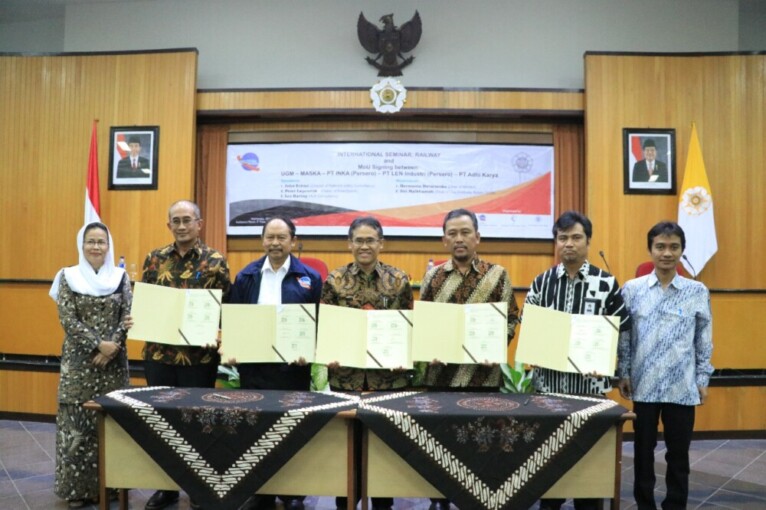 Rector of UGM has signed memorandum of understanding in national trains technology development with four partners on Wednesday (28/3).
Those are Masyarakat Perkeretaapian Indonesia (MASKA), PT Industri Kereta Api (Persero), PT LEN Industri (Persero), and PT Adhi Karya (Persero).
"UGM supports very much the cooperation that enables the disemmination and best practices exchange between the parties, particularly on trains technology," said Rector of UGM, Prof. Ir. Panut Mulyono, M.Eng., D.Eng.
According to Panut, the agreement covers public lecture, seminar, workshop, exhibition, facilitation for students for apprenticeship, facilitation for lecturers for research and community service, expertise, and technology development. He said this sector was a strategic and important sector in the national development.
"Trains have become one of the most important transportations in developed countries. I hope Indonesia could also develop this as one of the main transportation means," he added.
After the signing of the agreement, a public lecture was held, given by Director of Railtrack Safety Consultancy, John Echter, owner of Peter Spoort, Peter Lagendijk, and Leo Haring from HLR Consultancy.
Chairman of MASKA, Ir. Hermanto Dwiatmoko, M.STr., IPU., said the cooperation would open opportunities for UGM students and lecturers to do research in related industries, also inviting experts to campuses to give a lecture. He hoped the cooperation would run well and benefit all the stakeholders.
Similarly, Chairman of Indonesian Transportation Forum (ITF), Ir. Widoyoko, expressed his hoped following the cooperation, trains experts would contribute more to Indonesia's development, especially to boost the awakening of Indonesian trains by sharing their knowledge to the students.
"Through the seminar, the students may increase their insight and experience and at a later stage to become good leaders," said Widyoko.