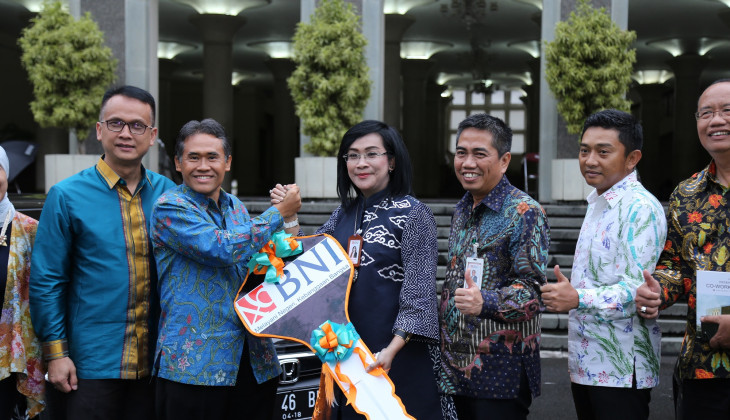 To improve the quality of education and research, Universitas Gadjah Mada has enhanced cooperation with PT Bank Negara Indonesia (Persero) Tbk. for services in deposit and savings products, corporate credit card and individual credit card services, consumer credit, etc, education financial assistance, research and car aid.
Signing of the agreement was done in UGM Conference Room on Friday (6/4) by Director of Institutional Relations of PT Bank Negara Indonesia (Persero) Tbk, Adi Sulistyowati, and Rector of UGM, Prof. Ir. Panut Mulyono, Mr.Eng., D.Eng.
Adi Sulistyowati said the cooperation was a follow-up to the previous ones where BNI had been engaged in student admissions and financial management.
Adi Sulistyowati further offered to assist in the management of endorsement fund of UGM, because this was needed to develop UGM for research and student development.
BNI also offered research funding schemes for lecturers, and education funding for S1, S2 and S3 programme for the working people. On corporate card, Adi Sulistyowati said with corporate card, financial management can be monitored well and transparently.
"Financial management can be monitored well. Presently, many people get used to being cashless, and for official purposes, you just need the corporate card, which is very convenient to use," she added.
Meanwhile, Rector of UGM, Prof. Ir. Panut Mulyono, Mr.Eng., D.Eng, appreciated the agreements with BNI because both parties have long history of joint activities, especially on financial management.
The Rector said the cooperation with BNI had run for a long time so he hoped this could be extended further, especially on the downstreaming of research products from UGM so that, "research from UGM can be functional products. These products are expected to reach society and benefit them," he said.