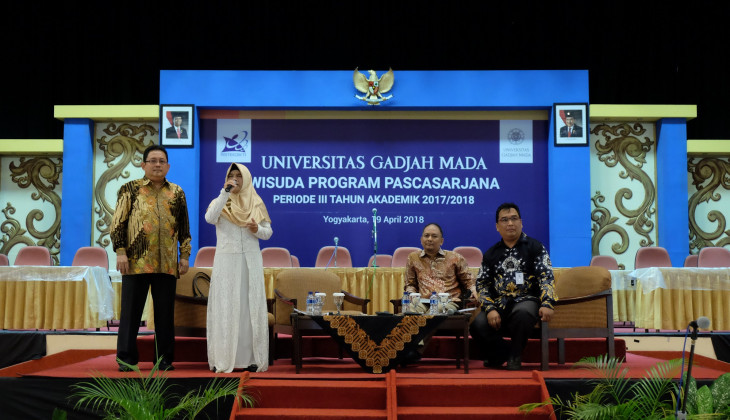 Alumnus of Faculty of Law UGM, Dwi Mukti Wibowo, S.H., M.H., continues to serve the community despite his occupation in Bank Indonesia. As Deputy Director of Communications of Bank Indonesia, he continues to take action in NGO for community empowerment and prosperity.
His service is mainly directed to people with disabilities. Along with the others, he strives to empower these marginalized individuals to live independently in prosper.
"We have to work for their independence with this empowerment. This is my life outside Bank Indonesia. We work in the office full day and we take care of them at night," said Dwi Mukti Wibowo, in Grha Sabha Pramana, Bulaksumur, Wednesday (18/4).
Dwi Mukti admitted happy to actively contribute in Debraile (Disability Empowerment for Business Relationship Education Labor and Entertainment). He empowered people with disabilities from the sector of business, partnership and education.
"We strive to create jobs and entertainment. We focus on their empowerment and leave the policy issues to the ministerial affairs. We empower them on our own way" he said.
Dwi Mukti claimed that despite the Law of Indonesia No. 8/2016, there were still many disability issues in the country. People with disabilities in Indonesia are facing discrimination against them and marginalized from the society.
"In fact, some universities do not accept prospective students with disabilities. They believe that disabled individuals will be a burden. Therefore, Debraile wants to initiate a mutual self-reliance," he said.
Dwi Mukti Wibowo was born in Semarang on 27 April 1964, from civil servant parents. His father, Darsono Sudri is an employee of the Department of Education and Culture, while his mother, Fitriati is an employee of a psychiatric hospital in Solo. This is the background of his educational and social sense.
He started his career path as a PCPM Staff of Bank Indonesia (BI) first placed in Foreign Affairs (1994-2002). He became Head of Economic and Monetary Policy System Section (SKEM) and Monetary Policy Management at Bank Indonesia Pontianak, West Kalimantan (2002-2005). In 2005-2008, he served as Head of Administration Section at the Office of BI Representative Office New York, prior to becoming Human Resource Analyst at Directorate of Human Resources (2009-2013). He was moved to the Directorate of Strategic Planning and Public Relations (2013-June 2013) and stayed in the Ministry of Communication to date.
Despite his busy schedule, Dwi Mukti continues to contribute to society. He expands his responsibility as a Trustee of Yayasan Tuna Netra Swaybima with 70 members, and an educator of informal social activity.
He had almost given up and retired from social activities due to personal reasons. He also had trouble financing the social activities from his own money and painting sales.
Indeed, there is financial aid from his internal institution of BI employees. The funds are provided once for each activity.
In the meantime, Dwi Mukti has committed to do everything whole heartedly. We need to put our hearts into the social activities if we want to achieve a good outcome.
"We can only let them go when they are independent. Our success is determined by how far they can live independently and help themselves," said Dwi Mukti. (Public Relations UGM/Agung; photo: Firsto)