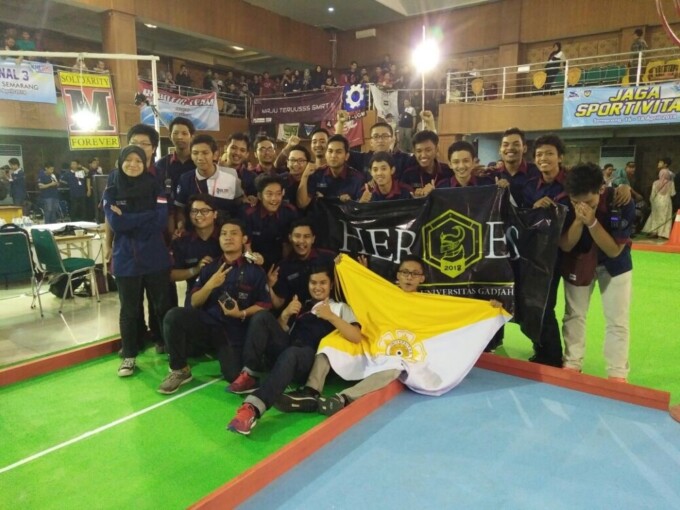 UGM Robotic team has become general winners of the Regional III Indonesian Robot Contest, running from 16-18 April 2018 at Universitas PGRI Semarang. UGM sent 4 teams, Robot ABU category (KRAI), Fire Extinguisher robot (KRPAI), wheeled football robot (KRSBI) and dance robot (KRSTI).
Manager of Gadjah Mada Robotic Team (GMRT), Dr. Rachmat Sriwijaya, said the wins were earned from the 4 divisions, namely Heroes team became first winner of KRAI, Al Fatih team was second winner of KRPAI, Fukuro team was third winner of KRSBI and Alfan team was third winner of KRSTI.
Rachmat said the success of UGM was thanks to the solidity of the team, both technical and management teams, who were coming from Mechanical Engineering, Electrical Engineering and Physics Engineering Physics all at Faculty of Engineering, Electrical Engineering at Vocational School, and Computer sciences as well as Electronics and Instrumentation at Faculty of Mathematics and Natural Sciences.
"All technical and management support the event. The technical team design and operate the robot, the management support the robot preparation and event operation," he said on Thursday (19/4).
With these results, the UGM robotic team will go to the National Contest to be held from 11-14 July 2018 in Yogyakarta.
Full results of the Regional III Robot Contest in Semarang are below:
KRAI (ABU) category
1st winner: UGM
2nd winner: AKPRIND YOGYA
3rd winner: UDINUS
Consolation prize: POLTEK NEG. BANJARMASIN
Best Design: UNY
Best Strategy: UGM
KRSBI category
1st winner: UNY
2nd winner: UNDIP
3rd winner: UGM
Consolation prize: UKSW
Best Design: UNY
Best Strategy: UGM
KRPAI category
1st winner: UNISULA
2nd winner: UGM
3rd winner: UAD
1st Consolation prize: UKSW
2nd Consolation prize: UNY
Best design: UNISULA
Best strategy: UGM
KRSTI category
1st winner: UAD
2nd winner: UNY
3rd winner: UGM
Consolation prize: USM
Best Artistics: UNY