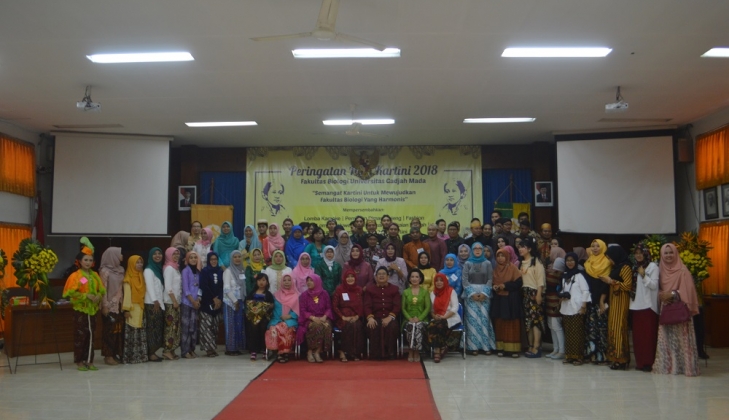 Celebrating Kartini's Day, Faculty of Biology UGM has organised various events, joined by its academic community.
The event was a collaboration between Faculty of Biology UGM and the Faculty's women's association as well as Kabiobagama Pusat. It was enlivened with performances that run for two day on 20 and 23 April 2018.
Event chairperson, Dwi Umi Siswanti, S.Si., M.Sc., said the celebration included a fashion show performed by lecturers, students and staff from Faculty of Biology. They strutted around on the catwalk displaying batik dresses by Hatmoko Batik.
"There are also events to train people on flower decorating, karaoke competition, customary fashion show, and elections of Faculty of Biology ambassadors to promote the Faculty," she said on Monday (23/4) alongside the celebration events in the Auditorium of the Faculty.
Dwi Umi said the events to celebrate the day was not just to celebrate her fights but also to strengthen the close relations and harmony between academic community members.
"With the spirit of Kartini, we want to realise a harmonious Faculty of Biology," she said.
Dean of the Faculty, Dr. Budi Setiadi Daryono, M. Agr. Sc., said the event was not just to remember the value of struggles of R.A. Kartini, but also to be the media for communication between the academic community.
"Hopefully, this event would enhance the synergy and harmony between members of Faculty of Biology UGM academic community," he concluded.