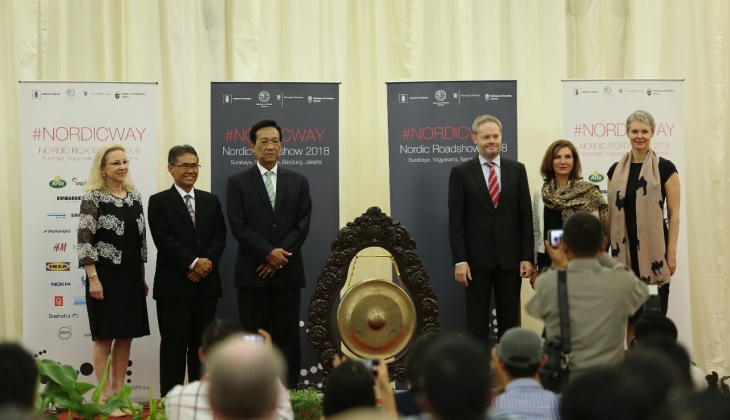 Embassies of Denmark, Finland, Norway, and Sweden along with UGM and Provincial government of Yogyakarta Special Region hosted Nordicway Roadshow on Monday (23/4) in Grha Sabha Pramana UGM.
During the Roadshow, exhibition was held to promote the profile of Nordic countries, and Nordictalks, presenting experts and practitioners in energy, city planning, education, and mobilisation.
Finnish Ambassador, Paivi Hiltunen-Toivio, explained the event was run to bring together stakeholders from government, business, academics, etc, to discuss solution to increasing education opportunities, improving transportation, and planning city architecture that can help developing countries.
Nordic countries are known as countries with good education quality and environmentally friendly sustainable development. This event became the forum to share experience of their success in those aspects that can be adopted in Indonesia.
"We want to promote Nordic solution and values. We hope we can help societies in developing countries and create a stronger Indonesia for the next generation," the Ambassador said.
Governor of the Province of Yogyakarta Special Region, Sri Sultan Hamengkubuwono X, expressed his admiration towards Nordic education system. Quality education, he said, might bring the city to a better civilisation. He appreciated the Nordicway roadshow that was held for the first time this year.
"I highly appreciate the countries that hold the Nordicway roadshow. We need to learn much from this event that tells their success story in development projects," he said.
At the same occasion, Rector of UGM, Prof. Ir. Panut Mulyono, M.Eng., D.Eng., said UGM had long established a cooperation with these Nordic countries. One of the collaborations was the waste management processing done at Gamping market along with Swedish researchers.
In the future, he hoped there would be more collaborations to emerge, especially in research and student exchange.
"I hope there will be more professors coming from Nordic countries to UGM and vice versa to jointly design research in environmental and social problems. I hope these countries can also benefit from this cooperation," said the Rector.