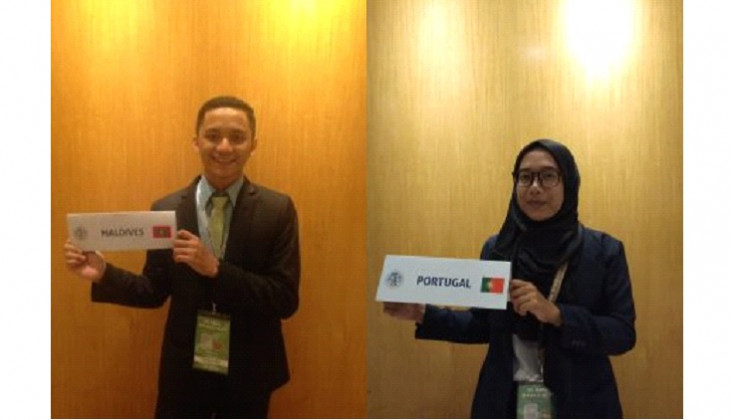 Two Biology students from UGM have participated in the world forum, Global Goals Model United Nations (GGMUN). The students were Thomi Asyari and Imroatul Habibah who joined a parliament based forum from 13-16 April 2018 in Sunway Putra Hotel, Kuala Lumpur, Malaysia.
The event hosted by International Global Network was joined by some 350 participants from over 30 countries in the world. The theme of the event was Youth Generation for Realization of 17 Global Goals. GGMUN include symposium and discussion related to 7 of 17 Global Goals, namely No Poverty, Zero Hunger, Good Health and Well Being, Quality Education, Gender Equality Climate Action, and Peace, Justice, and Strong Institution.
The UGM delegates had been selected to take part in the forum after passing through several phases of selection from the committee.
"We both were in the same forum, namely Good Health and Well Being that focused on world health problems," said Thomi on Monday (30/4) at UGM.
During the parliament based forum sessions, each delegate represented a country as determined by the committee with Thomi Asyari being Maldives representatives and Imroatul Habibah being Portugal representatives. They discussed a topic on breaking the change of epidemiology of AIDS, tuberculosis, malaria, and tropical disease. Each representative presented the problems they were facing, the measures taken, and solution.
"In this forum we're trained to express opinion, debating, resolving problems, and doing diplomacy like a real diplomat in a UN session," he said.
Afterwards, the participants joined the International Grand Symposium that was filled by several international speakers who talked about 17 Global Goals.
In the event the participants also had the chance to showcase their arts and culture by wearing their traditional or national outfit. Imroatul added joining this event would not just add to their experience of global issue and policy, but also hone their skills in debating and diplomacy.
"This event can be the forum for sharing ideas and expanding networks through delegates from other countries who have different backgrounds," she said.