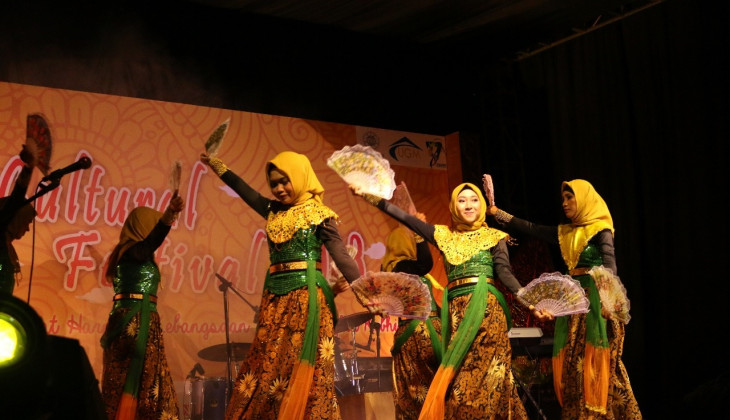 UGM Residence has again successfully organised the Cultural Festival for the seventh time. It was joined by 20 student organisations from regions across Indonesia.
Various events were held in this festival, such as cultural parade, culinary market, and arts and cultural performances. In addition, dNEXTG, a band whose members are UGM lecturers added to the fun. The event was organised on Saturday (5/5) in the UGM's Wisdom Park and was attended by hundreds of audience from various elements in society.
Several students organisations joined the parade that marched from Balairung to the Wisdom Park, wearing Indonesian traditional costumes and ornamentations. Dozens other established booths to promote their respective cultures, including KMHD from Bali, Himavia from Jakarta, Himaja from Jambi, Kemarigama from Riau, Gadjah Kampung, and more.
Rector of UGM, Prof. Ir. Panut Mulyono, Me.Eng., D.Eng., appreciated the Cultural Festival this year. In his opinion, this year's theme Nurturing National Harmony in Diversity was very good. According to Panut, Indonesia with its different ethnic groups, languages, and cultures could still remain united in the Unitary State of the Republic of Indonesia. Panut added this festival would strengthen the unity amidst diversity.
"UGM Residence accepts students from across Indonesia to live there in order that they can interact and understand the diverse cultures," said Panut.
A participant of the festival, M. Fikri Al Rasyid, said the event was not just to promote their culture to society, but also other cultures. Positive response was also raised by another participant, Andika Pranata from Kemarigama Riau. He said this even would increase the cultural insight of the visitors and participants, too. He hoped the festival would be joined by all student organisations from all Indonesia's regions.