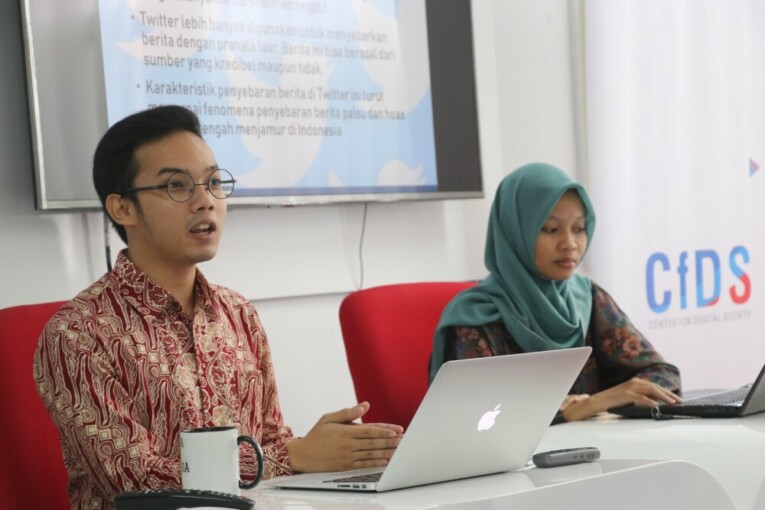 Ahead of the regional leader election and presidential election, the number of buzzers and bot accounts increases. In general, these give response to news on politics by citing unconfirmed resources. Netizens are therefore asked to be more considerate on such accounts and act wisely in accepting, processing, and sharing information on social media. This was stated by researcher from Center for Digital Society (CfDs) at Faculty of Social and Political Sciences UGM, Viyasa Rahyaputra, presenting his research in sentiment of the netizens on the MD3 Law issue (which regulates the position of representative bodies) on Twitter and online portals on Monday (14/5) at Faculty of Social and Political Sciences UGM.
Related to the opinion of netizens on the revision of MD3 Law in the months of February and March, as many as 4,605 tweets are known to be related to the Law. But of this figure, as high as 57 percent of tweets were uploaded by buzzers. "Only 43 percent of tweets are real opinions," he said.
Sorting of buzzers, said Viyasa, was done by seeing the characteristics of buzzes on Twitter that has generally no obvious account identity, citing online news from questionable sources, while the account responds to political news from unreliable sources. Indications can also be seen in the daily tweets done by such buzzers which is not normal.
"Activities of tweets in one month may reach 423 thousand of tweets, far higher than normal activity," he said.
Such phenomenon is used to disrupt information traffic so more negative information would appear among netizens. "The goal is to disrupt information traffic," he said.
Viyasa said that it was not easy to deal with this phenomenon, but netizens may be able to process information on social media before expressing their opinion on that information.
CfDS found out that Twitter users gave more negative sentiments to MD3 Law issue. "As high as 69% give negative sentiments, 29% neutral, and just 2 percent positive," said Lamia Putri Damayanti, another researcher from CfDS.
Meanwhile, of 694 news collected from 6 online portals such as CNN Indonesia, Kompas, Kumparan, Liputan 6, Merdeka, Sindo News, and Tribunnews, it was known that there are 412 neutral news, 231 negative and 51 positive news. But from online portals, the sentiment that most appears among netizens is negative.