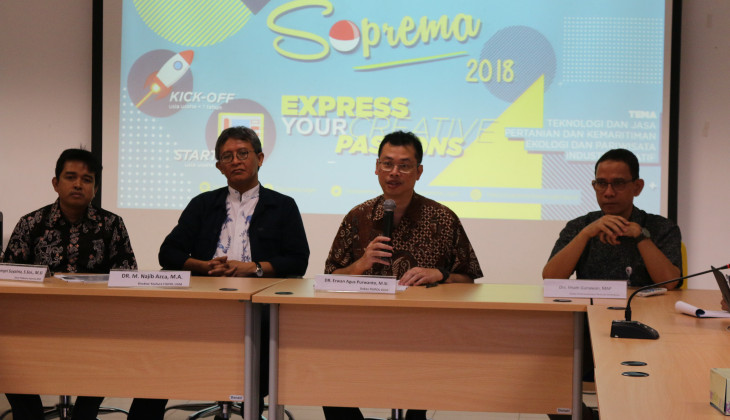 Faculty of Social and Political Sciences UGM's youth study centre, YouSure, holds another Sociopreneur Muda Indonesia (Soprema) event for the third time this year. The event is a form of YouSure's commitment to developing the social entrepreneurship potential of Indonesian youth.
"Soprema is not a mere event, but through this event, we hope that it will spark the beginning of social leadership and social entrepreneurship from all over the country. Amidst the changing economic conditions, Soprema can be an important solution as a model of entrepreneurship development in Indonesia," said Director of Youth Studies Center, Faculty of Social and Political Sciences UGM (YouSure), Dr. Najib Azca, Tuesday (5/15).
This year, Soprema carries the theme "Express Your Creative Passions" with four main series of event, which are young sociopreneur competition, incubation, expo, and seminar. The event will be held at the campus of Faculty of Social and Political Sciences UGM Yogyakarta from November 12-14, 2018. The event begins with the recruitment of participants for Soprema competition from May 15, 2018, to August 1, 2018.
Operational Director of Suprema, Dr. Hempri Suyatna, stated that in the previous two events there had been an increase in the number and range of participants, from approximately 500 participants from 22 provinces in 2016 to more than 1,100 participants from 29 provinces in 2017. This year, he aims to invite participants from all provinces in Indonesia.
This year's competition category, Hempri added, is still the same as the previous year, which is divided into kick-off category for business under one year and startup business of one to three years. Unlike last year's Soprema Competition with two competition themes, Soprema UGM 2018 carries four themes this year, including technology and service, agriculture and maritime, ecology and tourism, as well as creative industry.
"Additionally, this year we also add an incubation activity, both through YouSure and Creative Hub of Faculty of Social and Political Sciences. In this incubation activity, we are committed to continuing the development of social entrepreneurship by doing an intensive assistance to the ideas of the sociopreneur," he explained.
The incubation process itself will be held two times in August and November for 30 finalists of Soprema 2016 and 2017, after a selection process. Through the incubation, it is expected that sociopreneur can get some space to finalize ideas, solidify ideas, strengthen networks, and expand collaborative opportunities among the young sociopreneur.
Supported by Ministry of Youth and Sports Indonesia, Soprema UGM 2018 is expected to bring a positive contribution in the academic sector by participating in solving many social problems faced by Indonesian youth. Moreover, the event also aims to become a platform to encourage the creation and development of Indonesian youth's ideas in realizing prosperity of the country.
"We want the participants to develop their ideas into successful businesses. Hopefully, in the future, there will be new unicorns in Indonesian startup world through Soprema," said Dean of Faculty of Social and Political Sciences UGM, Dr. Erwan Agus Purwanto, M.Si.