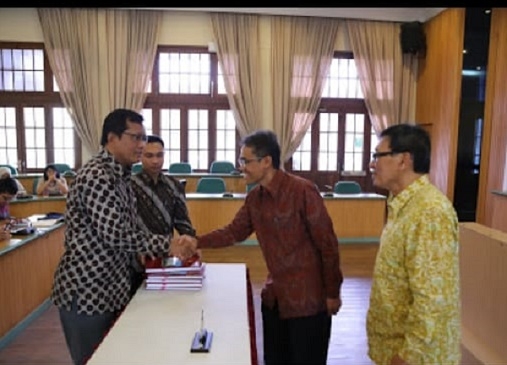 Faculty of Animal Sciences UGM plans to build Animal Science Learning Center (ASLC). It will become one of 10 centers at UGM that are developed under a cooperation with JICA. Signing of cooperation agreement was done on Friday (8/6).
The event was attended by Deans of the Faculty of Animal Sciences, Pharmacy, Dentistry, Forestry, Agriculture, Engineering and Vocational School, as well as Director of Project Implementation Unit, Ir. Hotma Prawoto Sulistyadi, MT, IP-Md., and Rector of UGM, Prof. Ir. Panut Mulyono, M.Eng, D.Eng.
In his speech, the Rector said the presence of centres including ASLC would improve achievements that can benefit the nation. "The increase of UGM ranking from 402 to 391 according to QS-WU is a positive outcome that needs to be appreciated. This is surely thanks to the cooperation and hard work of everyone," he said.
Faculty of Animal Sciences UGM had contributed to those achievements as in 2017 the ratio of publications by the Faculty's lecturers was the highest of all at UGM. Dean Prof. Ali Agus said the they had implemented the mandate from the Rector to make contributions to the state development. "For example, we have organised a free lecture for breeders. Its first graduates have even established a co-op that focuses on the business of animal husbandry products," he said.
He hoped ASLC would go along science development that would benefit the country. Meanwhile, lecturers will be more productive in education, research, and community service while students will have better learning facilities so knowledge transfer from lecturers will get better.