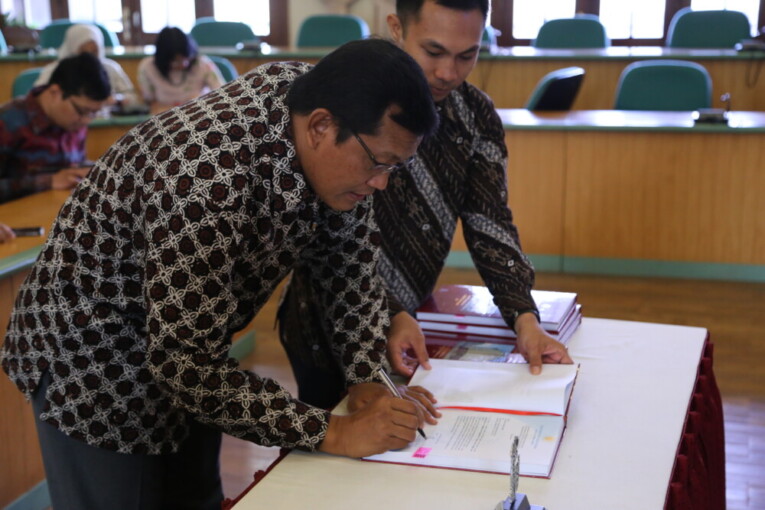 A total of 8 faculties and schools at UGM have received a financial aid worth 8.309 million JPY from the Government of Japan through Japan International Cooperation Agency (JICA) to build facilities and buy various equipment for academic activities. In this development program, UGM executives have committed to actively take part in monitoring and evaluating the process to ensure the quality and output of the development.
"Facilities and equipment proposed with the grant aid must provide benefits for UGM and the country. Hopefully, it is the right development to meet UGM's target as a world-class university," said UGM Rector, Prof. Ir. Panut Mulyono, M.Eng., D.Eng., Friday (6/8) at UGM's Central Building.
The statement was delivered during the Signing of Facilities and Equipment Specification Proposal Document through Loan No. IP-576 by the deans that he personally witnessed. Panut stated that the signing was a form of the faculty and university executives' responsibility to make sure that the loans are used according to its aims.
The 8 faculties and schools that receive the loans are Faculty of Pharmacy to build Advanced Pharmaceutical Science Learning Center, Faculty of Law for Law Learning Center, Faculty of Dentistry for Dentistry Learning Center, Faculty of Forestry for Integrated Farming Learning Center, Faculty of Agriculture for Agriculture Learning Center, and Faculty of Animal Sciences for Animal Science Learning Center.
Additionally, the Faculty of Engineering also received the loans to build Smart Green Learning Center as well as Engineering Research and Innovation Center, while the Vocational School to build Teaching Industry Learning Center and Field Research Center in Kulon Progo.
In the meantime, Director of Project Implementation Unit, Ir. Hotma Prawoto Sulistyadi, M.T., noted that academic plan review and facilities and equipment proposal review are strategic preparations for the accountability of proposals submitted by faculties or schools, and to maintain UGM's good reputation, particularly in legal matters.
"This requires full support from all of us. Once the development is realized, we should not let any proposer finds the result differ from his expectations," stated Hotma.