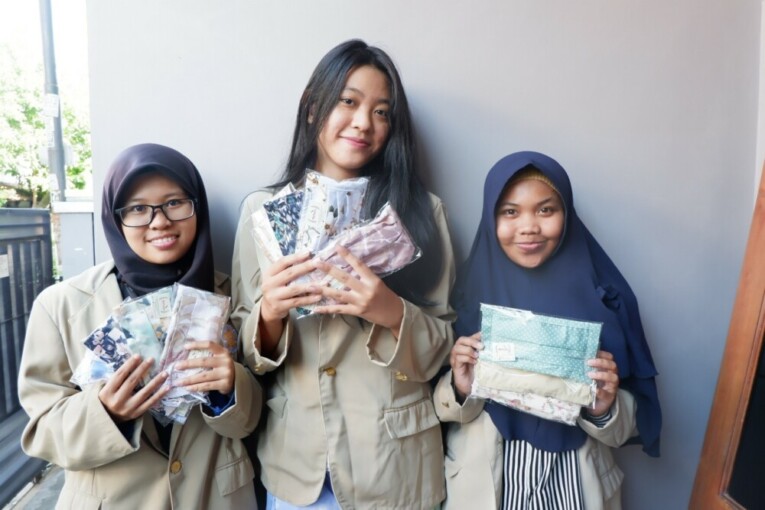 UGM students have found a way to resolve the problems of bad smell around one's place. This comes in the form of coffee fragrant mask.
Anami Riastri, Pharmacy student, said on Monday (25/6) at UGM that along with fellow students Maya Vania Rahmasari (Veterinary Sciences) and Annisa Fitri Maghfiroh Harvyana (Mathematics), they have developed MULFUNAS, Multifunction Anti Smell Mask, to neutralise smells. The product is made from comfortable material. It has coffee fragrance because the chlorogenic caffeic acid is proved to be able to neutralise smells.
"Coffee powder has high content of caffeine, so we use coffee essence for the mask to neutralise the smell," she said.
Under the guidance of Dr. Irwan Endrayanto Aluicius, S.Si, M.Sc, the students mix the coffee essence and store it in a bottle. The cloth for the mask is imported cotton that has high quality. They collaborate with tailors from Yogyakarta dan Solo to produce the mask so as to also improve the economy of the tailors.
"For people that don't like the smell of coffee, we provide the essence of sweetberry, too," said Anami.
Furthermore, Anami explained MULFUNAS is offered in 50 motifs, which are 10 batik motifs, 10 plain motifs, 10 shabby chic motifs, 10 abstract motifs, and 10 Japanese cotton motifs. The product costs Rp10,000 for a 1 pack of mask and coffee essence.
"You need to pour a drop of essence onto the front of the mask, wait for a moment, then put it on. The mask is rewashable after 3-6 days depending on use," she said.
Currently, MULFUNAS has been marketed online at tokopedia, bukalapak, and shopee under the store name of Mulfunas, You can also find them at Plaza Agro UGM, Sunmor market (Sunday Morning) UGM, supermarkets and pharmacists in Yogyakarta, Solo, and Jember, as well as reseller Titania Hana Puspita in Boyolali and Wafin Nurul Afiffaroh in Klaten.
This innovation from UGM has been granted funds by the Higher Learning Directorate General for Student Creativity Programme.