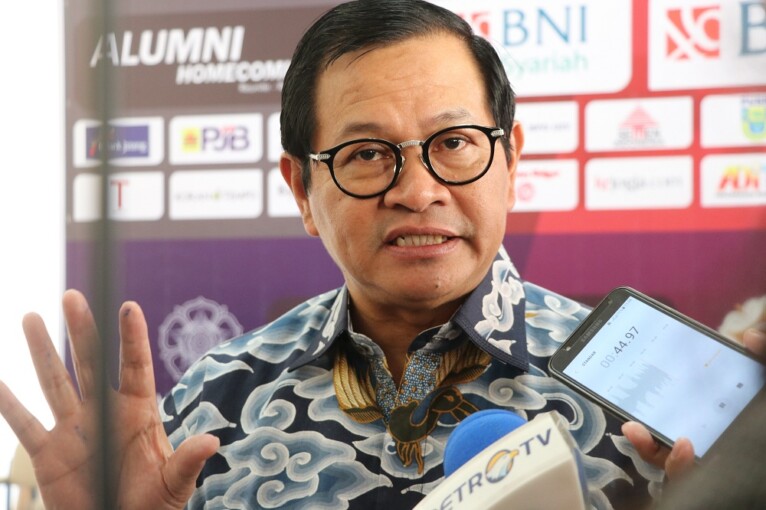 Minister of Cabinet Secretary Pramono Agung said that Universitas Gadjah Mada is blessed to have Joko Widodo, the President of Indonesia, as an alumnus. In his opinion, Jokowi is a president that prioritize the national development with future vision. "UGM is blessed to have the alumnus of Faculty of Forestry. He is a brave man, a true leader. Although he is an engineer, he led the nation to make it better," said Pramono Agung as resource person of Leadership Talk discussion at the Auditorium of MM UGM, Saturday (6/30).
Pramono said that he is not promoting Joko Widodo, but he witnessed personally the inauguration of various infrastructure projects in Indonesia by the president. "By the end of 2019, the toll road spanning from Merak to Pasuruan will be connected. Development has changed from Java-centric to Indonesia-centric," said the alumni of MM FEB UGM.
The Indonesia-centric development is realized by the new airport project that is better than airports in Java. In addition, President Joko Widodo is currently constructing the Trans-Sumatera Toll Road, Trans-Kalimantan, Trans-Sulawesi, and Trans-Papua. "If we do not build Papua, how are we going to make Indonesia prosper?"
During the four years of presidency, President Joko Widodo has pioneered several development policies. "Back then, the airports were nice in Java, but now airports outside Java are better than the airport in Yogyakarta." He expected the new airport in Kulonprogo to finish soon.
The national development, Pramono opined, is not easy to do for the alumni of UGM. Hence, he expected the alumni to work together and be confident in developing the nation. "The opportunity does not come many times. Networks and confidence are needed to build the nation and the country."
Aside from Pramono Anung, the talk show held by MM FEB UGM also presented other alumni as the speakers, including President Director of PT Bank BNI Syariah, Abdullah Firman Wibowo, President Director of PT Pembangkitan Jawa Bali (PJB), Iwan Agung Firstantara, as well as President Director and CEO of Samator Group, Arief Harsono.
Iwan Agung Firstantara said that PJB as a part of state owned electricity company (PT PLN) also supports the government project to build 11,000 MW power plants in Java-Bali. "The operations are not only in Java and Bali but throughout the country. We have been working on several parts and we aspire to double electricity capacity."
He admitted that his studies at MM FEB UGM helped him manage PT PJB. "I am grateful of MM for giving me the knowledge and inspiration. I always believe that a leader's responsibility is to maximize the current strength and capacity."
President Director and CEO of Samator Group, Arief Harsono, was proud to become one of UGM alumni in 2005. He explained how he started his business as an oxygen gas supplier in 30 provinces of Indonesia. "We are one of Indonesia's oxygen gas manufacturers. Aside from India, China, and Japan, gas suppliers in other countries are owned by foreign companies," he said.