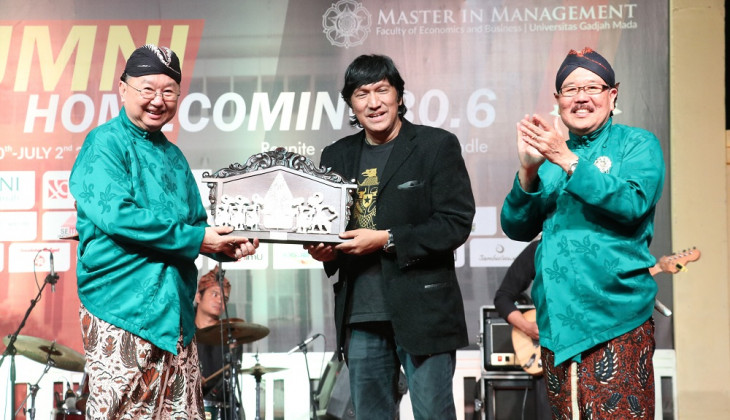 Leading artist, Butet Kertaradjasa, and keroncong singer, Sundari Soekotjo, were guest stars of a reunion of the alumni of Universitas Gadjah Mada's Master in Management study programme of Faculty of Economics and Business (MM FEB UGM) on Saturday (30/6) at MM FEB UGM. The cultural night themed event celebrates the 30th anniversary of the study programme.
In a monologue, Butet made the insinuation that many people now claim themselves as graduating from a certain university while in fact they are not. This has made a negative image to the university. "Fortunately, UGM alumni are not among those people, they are smart intellectuals," he said.
According to Butet, "A reunion like this, I think, is not just a gathering but establishing communication and brotherhood among the alumni where they should not stir arguments or hostility between themselves," he said.
He added UGM not just produced academics and intellectuals but also statesman. Alumni gathering can strengthen the bond while making sure that they do their best at their respective place of work.
Singer Sundari Soekotjo came to sing Rangkaian Melati song. She became a resource person earlier in a discussion, Leadership Talk, where she told the audience her experience doing business.
"I have established Yayasan Keroncong Indonesia, a foundation for keroncong artists. I wanted to give room for the young generation to know and love keroncong music. We are now making a project that combines dangdut, pop, and rock genres," said the singer.
Chairman of the alumni organisation (Kafegama MM UGM), Ikang Fawzi, said the cultural night was run to bridge the alumni. "I think this is a great moment for the alumni to get together. This reunion can motivate the alumni once they return to their own areas of work," he said.
Manager of MM UGM from Jakarta campus, Prof. Dr. Tandelilin Eduardus, MBA., said the event was held to celebrate the 30th anniversary of the school to educate business leaders in the country. "For thirty years, alumni have made contributions to Indonesia starting from Sabang in the West to Merauke in the East," he said.
The night culminated with a token handover from the alumni to the managers of MM FEB UGM, done by Ikang Fawzi to study programme chairman, Hany Handoko, MBA., Ph.D., witnessed by managers of MM UGM of the Jakarta Campus, Prof. Tandelilin Eduardus.