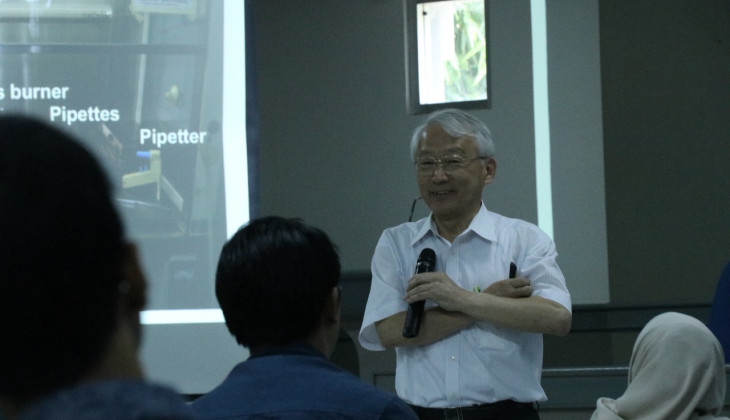 For the 2018 World Class Professor program, Universitas Gadjah Mada's Faculty of Pharmacy held a workshop titled Mammalian Cell Culture Technique and Application in Biomedical Research from June 2-4, 2018.
The speaker presented in the workshop was the Molecular Biology Expert from Nara Institute of Science and Technology Japan, Prof. Masashi Kawaichi, MD., Ph.D.
In the first session on Monday (7/2), Masashi presented a discourse of the management of molecular biology laboratories, covering living modified organism (LMO) management, chemicals management, as well as human resource management and training.
"Aside from the equipment, human resource should also be taken care of as the coordinator," he said.
The handling of living modified organism requires special attention because it addresses legal aspects. He explained that since 2004, Japan has issued regulations on the use of LMO based on the Cartagena Protocol. Therefore, laboratories in Japan have started to carry out strict procedures on the use of LMO in laboratories.
"Indonesia ratified the protocol in December 2014. There should be a domestic law based on it," said Masashi.
In front of the audience, he visualized the equipment needed in a molecular biology laboratory, such as DNA/RNA gel electrophoresis tanks, stereomicroscope, PCRs, tube spinner, ultrasonic homogenizer, and so on. In addition, he also explained the laboratory safety rules and regulations, including the importance of keeping laboratory waste separated and prohibiting food storage in chemical refrigerators.
Regarding the management of human resource, he mentioned three important points applied in his laboratory, including routine staff meetings, progress reports, and a journal club, in which every week a staff or student gives a one-hour presentation of a paper. The last point, he opined, has not been widely applied in other laboratories, but it can be an important way for researchers to broaden their horizons and learn about the latest research development.
After presenting the management of molecular biology labs and cell culture, Masashi will be giving a presentation on Primary Cell Culture" and "Application of Cell Culture in Biomedicinal Research in two sessions on Tuesday (7/3).