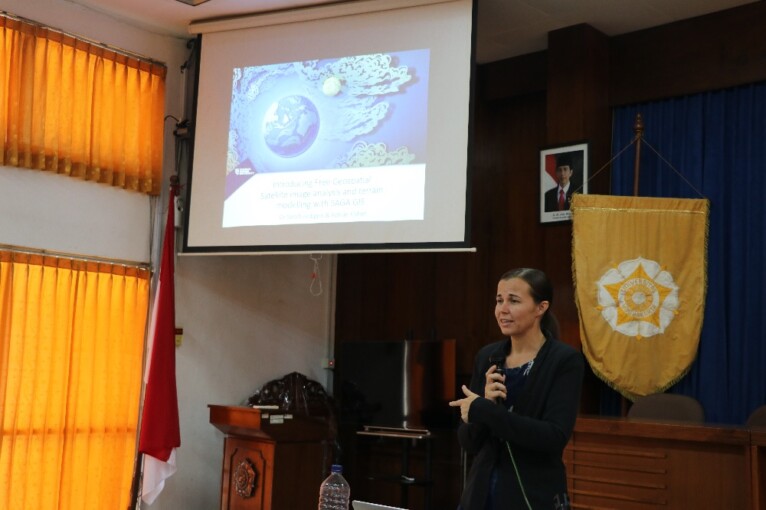 Geography Information System (GIS) is very beneficial for researchers to support mapping projects and geographical data management. Many GIS softwares can be used for mapping, including those that are free and open source.
"Students can use free and open source geospatial softwares, so this will save students research funding," said Dr. Sarah Hobgen, researcher in Research Institute for Environment and Livelihoods, Charles Darwin University, on Wednesday (4/7) in the Auditorium of Faculty Biology UGM.
Delivering guest lecture themed Free and Open Source Mapping for Environmental Science to UGM researchers and students, Hobgen introduced free GIS such as SAGA and Quantum GIS.
She explained by using free and open source GIS softwares students will find it convenient as these require no license fee and easy to update as well as being supported by the Geospatial Information Agency (BIG) and Geospatial Information laws. The softwares are also easy to learn and applicable anywhere.
Meanwhile, Dean of Faculty of Biology UGM, Dr. Budi S. Daryono, said the guest lecture would be the media for sharing information and knowledge, especially related to the use of free GIS softwares as one of the tools in natural sciences research. He hoped this would give new knowledge to the UGM students and researchers.
"The guest lecture is part of the Central Java Field Intensive (CFFI) Program between Faculty of Biology UGM and Charles Darwin University. We hope this would open new insights and benefit research implementation in the future," he said.