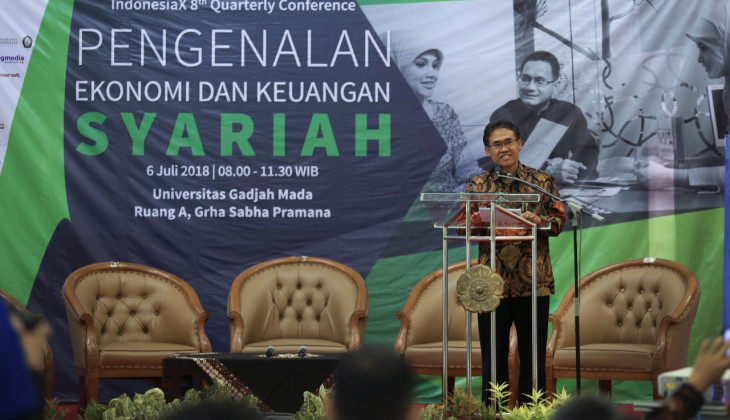 Technology based financial services popularly called as fintech are now rife, provided by financial services operators, including banks.
Amidst the phenomenon, sharia banking as alternative banking services is demanded to follow the trends and adopt such technology.
"Now we have entered the digital economy era and sharia banking needs to adjust themselves. FInancial technology use is an absolute necessity," said Rector of UGM, Prof. Ir. Panut Mulyono, M.Eng., D.Eng., on Friday (6/7) in Grha Sabha Pramana UGM.
He made the statement when opening the IndonesiaX 8th Quarterly Conference that raises themes on sharia economy and finance. Financial technology adoption shall be an important part of sharia banking development, Panut said, because sharia banks can reach more clients while the banking services are no longer limited by place.
"Amidst the large Muslim population, banking system has the potential to grow more as long as the services are improved. Sharia banking is expected to be a solution to economic growth and welfare improvement in Indonesia," he said.
Related to the adoption of technology by economic sector, Rector of Universitas Islam Indonesia (UII), Fathul Wahid, Ph.D., who is the keynote speaker in the conference said digitalisation is often seen as a monster by the traditional industry or the young generation that will start work.
Such challenge, he said, will give more challenges to the educational institutions, especially higher learning to equip the students with knowledge and skills that are relevant to the current needs.
"We have to change the learning that focuses on the student with a clear goal. This should start from the right mindset," he said.
Other speakers of the event include Coordinator of Islamic Financial Economy Master Programme of UII, Achmad Tohirin, Ph.D., Head of Centre for Sharia Economy and Business of Universitas Indonesia, Rahmatina A. Kasri, S.E., MIDEC, MBA, Ph.D.,and economics lecturer of Universitas Diponegoro, Dr. Fuad Mas'ud, MIR.