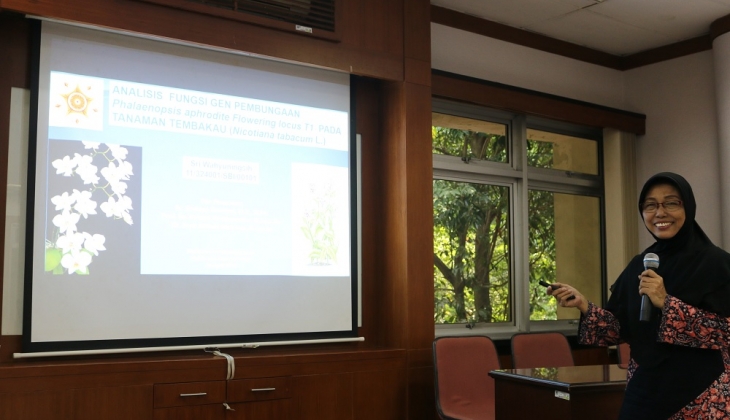 Orchids are known for their beautiful and diverse species. But did you know that the flower blooming gene can encourage other plants to bloom, which includes tobacco plants.
"The flowering gene, Phalaenopsis aphrodite Flowering locus T1 (PaFT1) can accelerate the flowering of tobacco plants," said Dra. Sri Wahyuningsih, M.Si, doctoral student of Faculty of Biology UGM when delivering her research outcomes on Friday (6/7) at Faculty of Biology UGM.
Disseminating the research, the lecturer at Universitas Mulawarman said that PaFT1 was a homolog FT gene that is isolated from Phalaenopsis aphrodite from Taiwan. The gene is predicted to be the key gene in the initiation of flowering in orchids.
To get in-depth information on the function of PaFT1 gene in accelerating the bloom, Wahyuningsih further studied if the gene could be used for the induction of rapid blooming in orchids and other horticultures that have a long vegetational term.
"It resulted that the speed of transformer tobacco blooming was 24 days earlier than in non-transformer plants," she said.
This proved that transgenic PaFTI that has been integrated in the tobacco genomic DNA will functionally show accelerated bloom. Besides, addition in petals of tobacco is also seen.