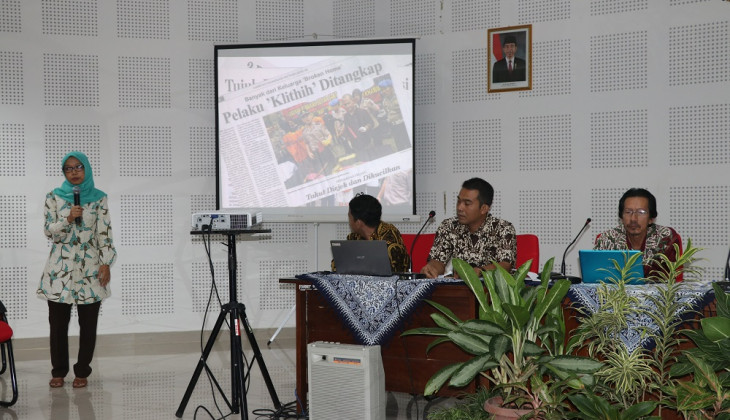 The death of a student of UGM recently due to juvenile gang act has brought more concerns. The act is not a juvenile inappropriate act, but also it cannot be categorised as a crime because the perpetrators are the victims of indoctrination of school gang in addition to lack of attention from parents and school.
This emerged in a seminar on the rampant stay-out-at-night acts on Thursday (12/7) in Soegondo Hall Faculty of Cultural Sciences UGM. The Seminar is organised by the Faculty's unit for community service, representing speakers Yogyakarta Police Psychology Unit, AKP Muhtar Efendi, S.Psi, M.Psi., UGM Sociologist, Drs. Suprapto, Su., Psychologist, Dr. Arum Febriani, and history lecturer Julianto Ibrahim.
Muhtar Efendi said the average age of perpetrators arrested by the Police was under 17. He opined that leaders of the gang knew that underage children cannot be put to trials. "Gang members who are above 17 remain behind the scene," he said.
He said in general the perpetrators were from high school gangs. Almost all high schools have such gang whose mission was to commit violence or even kill a boy from other schools. "But usually, schools deny the presence of the gang in their area and we know this gang is undercover," he said.
Investigations of arrested gang members showed that they were looking for a member from other schools that were their enemy. "Their mission is to kill or be killed, bring the uniform of the victim as a proof while the weapon to kill them will be made a legacy for the gang," he said.
Lecturer Arum Febriani said on the research she conducted of the perpetrators who are currently under the monitoring of Juvenile Agency showed that most of the members were male, only one was female. Their psychology tests showed that they had low emotional maturity, lacking attention and monitoring from parents.
Arum said poor relations with the parents as well as physical abuse in the family have driven the perpetrator's commitment to their gang. "All of them said they lost the father figure and miss it," he said. It is also known that their academic motivation is low due to low learning motivation.
Soeprapto said the gang acts had emerged after the issuance of Yogyakarta Mayor decree that heavily punished juvenile clashes actors by dismissing them from school. As a result, the gang found their own enemy and committed the act. In addition, the weak supervision of parents and school have made the students easily recruitable by such gang. "The function of family is weakening because parents do not do socialisation of culture, value, and norms," he said.
In his opinion, parents should give attention and monitor the activities of their children. On law enactment, he said it was not enough just to punish the perpetrator but to also find the mastermind behind each act in Yogyakarta.