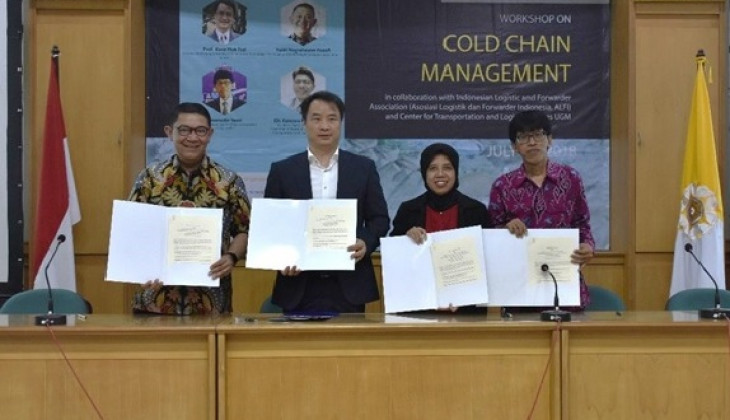 Maintaining product quality for consumers is important to earn their trust and high satisfaction. This poses a challenge for agricultural produce both fresh or processed, which are perishable. Still, many perishable products are thrown away due to reduced quality in the whole value chain starting from harvesting, processing, distribution, to consumption. One of processing technologies is cold temperature technology to maintain the product quality. Demands of frozen food and food delivery services are increasing, which necessitates the role of cold chain in the supply chain.
Regarding this issue, Faculty of Agricultural Technology UGM in collaboration with Indonesian Association of Logistics and Forwarder (ALFI) and Centre for Transportation and Logistics Studies UGM (PUSTRAL UGM) organised the Workshop on Cold Chain Management on Thursday (12/7) at the Faculty.
The event to celebrate the Faculty's 55th anniversary presented four speakers: Yukki Nugrahawan Hanafi (Chairman of ASEAN Federation of Forwarder Association, AFFA), Prof. Kune Muh Tsai (Dean of Faculty of Management National Kaohsiung University of Science and Technology, NKUST, Taiwan), Hasanudin Yasni (Chairman of Cold Chain Association Indonesia), and Dr. Kuncoro Harto Widodo, STP., M.Eng. (lecturer and chairman of experts team from PUSTRAL UGM).
They presented fundamental supply chain and cold chain topics as well as application examples of cold chain technology in the country. Participants that attended the event were representatives from related agencies, such as Marine and Fisheries Ministry, Office of Co-ordinating Minister for the Economy, Yogyakarta Customs, Central Java Food Security Agency, Central Java Agriculture and Plantation Agency, UGM lecturers, cold chain technology and logistics industries, and associations such as ALFI, AFFA, and ARPI.
The workshop ended with the signing of two MoUs between UGM and NKUST and five parties-MoU between UGM, NKUST, AFFA, ARPI, and Taiwan Cold Chain Association (TCCA).