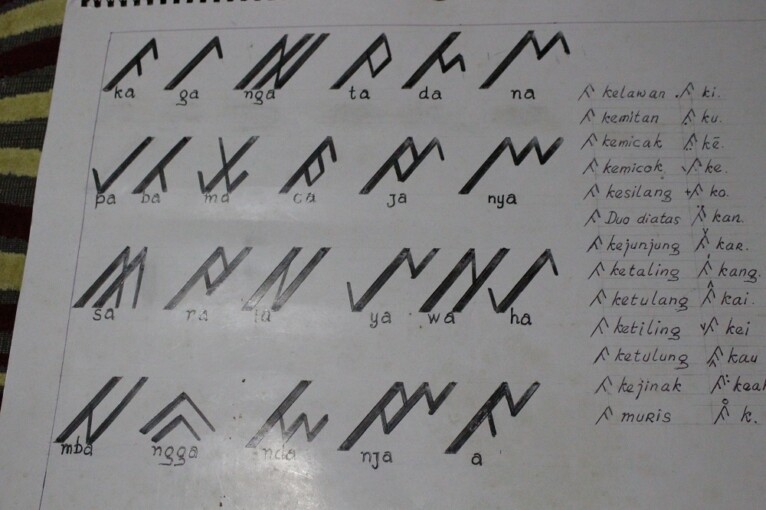 Rejang language is one of five oldest Indonesian languages spoken by the Rejang ethnic group living in Bengkulu Province, Sumatera. This language has a unique dialect that is rather difficult to pronounce. It also has its own alphabets called as Ka Ga Nga. Speakers of Rejang are mostly from the native speakers, i.e. Rejang tribe. But along with globalisation, there has been a shift in the use of the language.
Due to the little number of research that has been done on the survival level, three Cultural Sciences students, examined to reveal at what level the vitality of Rejang language stays through Student Creativity Programme funded by Higher Learning Directorate. The students are Putri Meilinda Sari, Muhammad Dian Saputra Taher, and Akhmad Khanif, who are all guided by Aprilia Firmonasari, S.S., M. Hum., D.E.A.
They made the research in Lebong, Bengkulu Province, from 29 April – 18 May 2018, involving 390 high school students and customary figures as respondents.
The result showed that the use of Rejang language for its speakers was at the low level which is for communication between family and neighbours. "Language transmission between generation is weakening," said Putri on Thursday (19/7).
As high as 70% of language use is among family, the rest speak other languages. At education level, said Putri, not all schools teach local languages. She concluded that based on the shift of use and language attitude, Rejang language is in the category where a shift is happening because it is spoken orally in the same generation, but only a few of parents transmit it to their children. "This condition indicates the starting point of language shift," she said.
Putri added the community is unaware that this is happening and many even are unaware that their language is one of 12 languages that have important local alphabets in Indonesia. Attention is, therefore, needed to maintain the language.
Putri and colleagues produced videos and articles on the Rejang language that can be seen on Youtube ("Mengupas Daya Hidup Bahasa Rejang dan Proses Revitalisasinya"). "The documentary video will make the society driven for maintaining their local language," Dian Saputra Taher added.