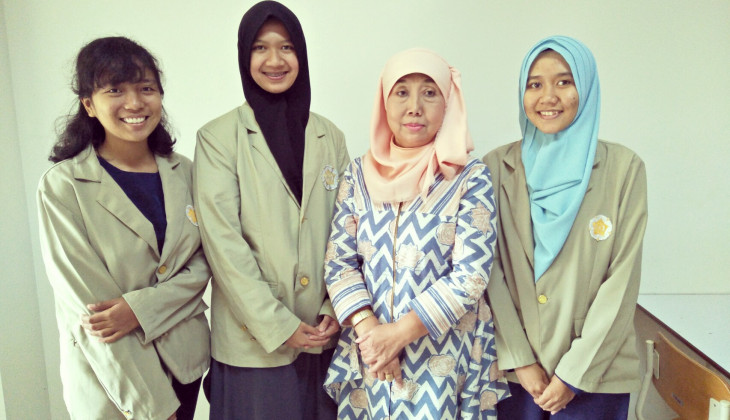 Gingivitis or gum inflammation ranks second as oral disease with the highest prevalence in Indonesia. This disease may cause various complications, such as turning into a risk factor of periodontal attachment loss that can lead to loss of teeth.
The issue inspired three UGM students to develop a solution to inflamed gums by using the extract of garden spurges (Euphorbia hirta).
"We chose this plant because it is easily obtainable and has not been optimally used," said Rachma Nissa Sitho Qurota A'yun, UGM Dentistry student, Thursday (7/19).
A'yun explained Gingivitis is a very common disease globally. She mentioned a study in the US has shown that 82% of adolescents have gingivitis. The high prevalence is also found in Indonesia.
Spurge plant has the potential to cure the disease because it has active compounds such as flavonoids, terpenoids, phenols, essential oils, saponins, amino acids, alkaloids, and minerals that can lower inflammation and improve anti-inflammatory effect regulation. Hence, they found the idea to turn spurge extract into nano-spray medication as a gingivitis therapy agent that can easily penetrate gum sulcus.
The study was done by A'yun with two fellow Dentistry students, Maria Ditya Wartadiani and Latifah Ulfahastika, for about three months since May of this year.
"Extract of spurge plants as spray with nanoparticles can easily penetrate the gum surface and accelerate gingivitis healing process. Additionally, this Sparagi preparation can be used easily by children and adults because they only need to spray it on the inflamed area and apply it topically."
The making of spurge nano-spray starts with extracting spurge plants, followed by making chitosan solution and adding the extract by using magnetic stirrer. Once it is homogenous, they make NaTPP solution by mixing aquades with homogenizer.
After obtaining the target result, they performed spray preparation and Particle Size Analyzer test, followed by in vivo or pre-clinical testing on brown rats to check the effectiveness of spurge extract nano-spray in gingivitis healing process.
"After seven days, it showed that the nano-spray brings a positive effect in the healing process of gingivitis," A'yun said.
In the future, the three students hope that their finding can attract the government and related agencies to do the next testing, toxicity and clinical trials, as well as patents.