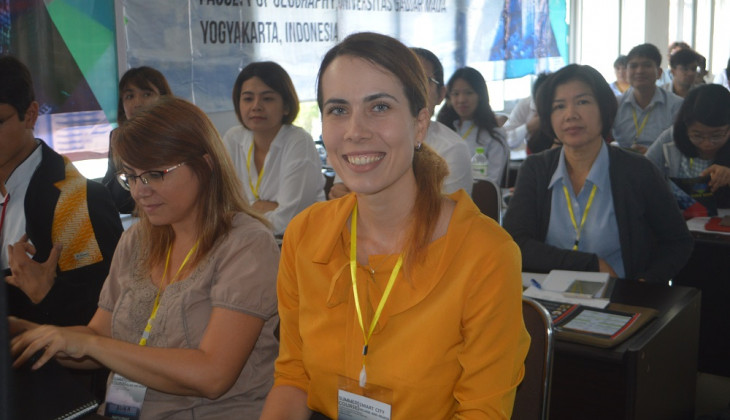 As many as 60 international students from 11 countries are participating in the summer course themed 'Smart City, Village, and Region' and also 'Summer School on Speleology' at the Faculty of Geography, Universitas Gadjah Mada. For two weeks from August 6-15, the participants will gain knowledge and understanding, as well as share ideas on the concept of developing cities, villages, and smart regions. Some of the participants came from France, Romania, India, South Korea, Uganda, Zimbabwe, Cambodia, Thailand, Vietnam, Singapore, and Malaysia.
The program coordinator, Dr. Rini Rachmawati, said the summer courses aim to improve the quality of international learning atmosphere."The discussion is not limited to smart city, but also emphasizes the importance of developing smart village and strengthening smart region," she said after opening both summer courses at the Faculty of Geography, Monday (8/6).
Aside from classroom activities, the participants had the opportunity to visit the smart green village in Flory Village, Sleman, Digital SMEs in Borobudur Village, Smart Tourism Village in Disaster Area or Merapi Lava Tour, and a visit to Gamatechno to learn about application models.
Head of Sub-directorate of International Affairs UGM, I Made Andi Arsana, S.T., M.E., Ph.D., pointed out the issue of smart city development does not only occur in Indonesia but also extensively discussed in many countries. Through this short courses, students and professors can exchange ideas and experiences from their respective countries. "Participants can share ideas and learn from each other."
According to Andi, the concept of smart city in Thailand, Cambodia, and Laos might differ from Indonesia. He opines the concept does not only associate with information and communication technology, but also the community, cultural perspective, and local wisdom. "There is plenty of local wisdom we can learn."
Ana Maria Talos from University of Bucharest, Romania, is delighted to join the summer courses at UGM. She hopes to learn much about the concept of smart city in Indonesia and other countries. "This is my chance to build relationship and network with international students, as well as learn about different cultures," she said.
Meanwhile, Wasin Meesuay from Chulalongkorn University, Thailand, admitted that he was interested to join the program to learn the scientific study of caves which are commonly found in rural areas. Recently in Thailand, there were young soccer players trapped in a flooded cave for several days. "I will share what I have gained here to people in Thailand".