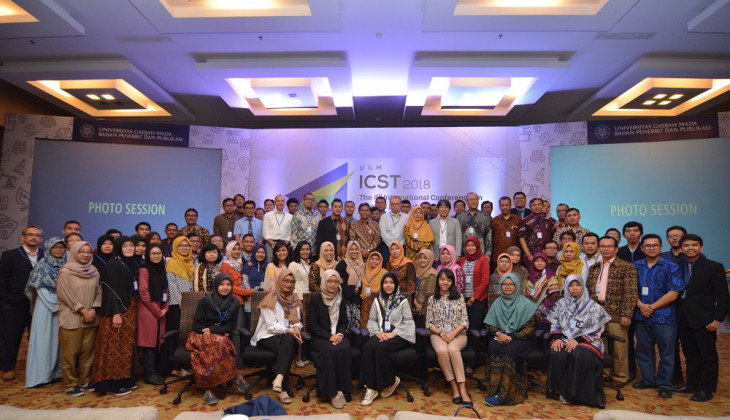 Rector of UGM, Prof. Ir. Panut Mulyono, M.Eng., D.Eng., holds the 4th International Conference on Science and Technology (ICST) at Eastparc Hotel, Yogyakarta, on Tuesday (8/7). The conference that ran for two days from August 7-8 is a forum for national and international researchers, lecturers, and practitioners to exchange ideas.
Prof. Ir. Panut Mulyono, M.Eng., D.Eng., in his remarks said UGM would consistently be the forefront of scientific research advancement, such as by building and developing scientific networks. "The development of scientific networks aims to sustain the advancement of science and technology in Indonesia," said the Rector.
Head of ICST committee, Dr. I Wayan Mustika, M.Eng., stated there are 266 people participating in ICST 2018 in addition to nine keynote speakers as well as invited speakers from 12 countries.
Some of the speakers are Prof. Dr. Ir. Fitri Yuli Zulkifli, S.T., M.Sc., from Universitas Indonesia who delivered the topic Terahertz Research a Potential Technology for the Future, Gerard Remijn, Ph.D from Kyushu University Japan with the topic Perception of Audiovisual Information in the Real and Virtual World, and Dr. Ing Hutomo Suryo Wasisto from Technische Universität Braunschweig with the topic of 3D Semiconductor Nanostructure: Fabrication, Processing and Application.
The participants of ICST are divided at a plenary session to discuss seven main topics, which are Computer and Information Technology Symposium, Electronic, Communication, Control, and Instrumentation Symposium, Environmental and Earth Science Symposium, Material Science and Chemistry Symposium, Mechanical and Industrial Engineering Symposium, Power and Energy Symposium, and Remote Sensing and Geomatics Symposium. This session provides an opportunity for participants to discuss deeper their respective scientific fields.
Head of UGM Publication Unit, Widodo, Ph.D., mentioned this event is routinely organized by the unit as a form of UGM's commitment as a World Class Research University. "Through the Publication Unit, UGM strives to improve the international publication. Therefore, each paper that is presented will be further selected to publish in the Scopus indexed journal," Widodo said.