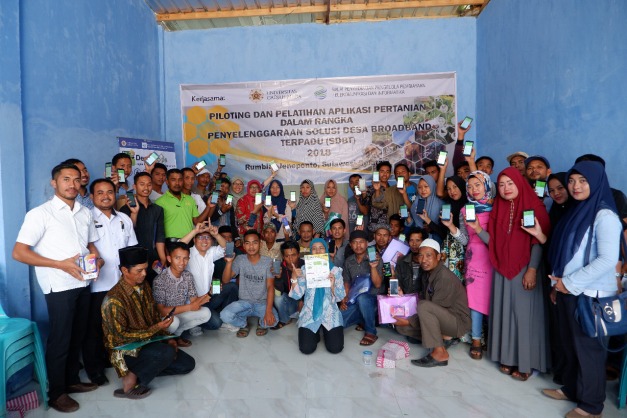 Faculty of Agriculture UGM in cooperation with Gamatechno have developed the media for digital consultation through an application named as DesaApps.
Developed in 2016, the app has now over 10 thousand users. It was launched officially on Tuesday(14/8) in the Rumbia village, Jeneponto regency, in South Sulawesi.
"In line with the slogan of DesaApps, One Finger Much Information, the app is expected to enable farmers to get information, starting from pre-production, production, post-production, and up to marketing," said lecturer in Agricultural Extension and Communication, Alia Bihrajihant Raya, S.P., M.P., Ph.D.
She said the DesaApps contains menus that can help farmers get information and solution related to farming business as well as recording the yields. In Rumbia village, the DesaApps comes as an agricultural application provider for farmers that cultivate corn. Training is given to enable the farmers in using the app easily. The training includes internet literacy explained by Alia, use of mobile phones for agricultural productivity by Communications lecturer, Syafrizal, S.IP., M.A., and DesaApps usage by DesaApps team. As many as 40 farmers from 5 hamlets in Rumbia took part in the training. Alia said after the training the farmers would still be trained by the app team.
"Participants were very enthusiastic in joining the training. We hope they can spread the use of DesaApps to the surrounding communities so that the app users will increase," she said.
The launching of the DesaApps was witnessed by Vice-Dean of Agricultural Faculty, Dr. Ir. Sri Nuryani Hidayah Utami, SU., M.Sc., representatives from Ministry of Underdeveloped Regions, Ministry of Agriculture, BP3TI, and authorities from Jeneponto regency.
The launching was done in conjunction with piloting of agricultural app, a collaboration between UGM and BP3TI of Ministry of Communication and Information in a programme of Integrated Broadband Village Solution (SDBT). The programme emphasises the synergy between the Network, Device, Application, and Capacity Building of users.
"The farmers hope that farmer's welfare can improve through the provision of information, solution, and records of agricultural yields as well as marketing strategy. Thus, independent farmers in digital era would emerge even from an underdeveloped village," said Alia.