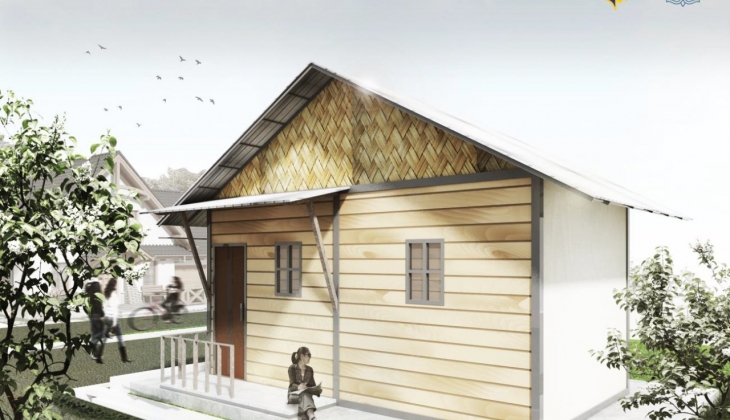 UGM in cooperation with the Transportation Ministry will build transitional house that can later be developed into permanent home in several villages affected by the Lombok earthquake.
This construction is one of UGM's plans to support the rehabilitation and reconstruction process of physical damage left by the large-scale earthquakes.
"The principle is to build strong transitional housing quickly that can be turned into temporary growing houses," said Faculty of Engineering's Dean, Prof. Ir. Nizam, M.Sc., Ph.D., Monday (8/27).
In the event of major disasters, after emergency response, the next phase is rehousing the displaced victims. In earthquake occurrences, Nizam explained, the process is more complex because the victims' houses had collapsed so they did not have a place to return and live comfortably and safely.
"It takes long time to rebuild collapsed houses, while they are urgently needed, especially once the rainy season comes," he explained.
UGM Faculty of Engineering team has developed the concept of transitional house that is constructing transitional housing that can be transformed into permanent houses. Each unit can take two days to build. Therefore, this can be an effective solution to accelerate the rehabilitation process. The construction plan itself reflects on the 2006 Yogyakarta earthquake. At that time, donor agencies built around 250 thousand temporary shelters for the community's transition needs.
The faculty's design will use steel frames with two Channel Iron CNP 100 cupped into boxes, then assembled into beams and columns with modules about 3 meters.
The pilot construction process starts on Tuesday (8/28) at the location of UGM Community Service Program for Disaster Response in Gumantar Village and two other villages of North Lombok Regency. The process will be carried out with the community through the empowerment concept and economic mobilization, supported by UGM Disaster Response Unit, Engineering Alumni, Engineering student and lecturer volunteers, as well as Student Community Service team for Disaster Response.
"Tomorrow we will begin making several pilots to prepare the local builders. We target the inauguration by the Transportation Ministry on September 9," added Nizam.
After initiating the pilot construction, the Engineering UGM team partnering with the Transportation Ministry will build the transitional house in Karang Pangsor village around the Pemenang Harbor in North Lombok. Overall, 25 houses are built at this stage.
Aside from designing transitional houses, the Faculty of Engineering volunteer team with the Public Works and Housing Ministry have also previously built several instant housing units (RISHA) as well as latrines and ablution facilities in affected villages. RISHA itself is a program initiated by the Public Works and Housing Ministry that involves lecturers, students, and alumni of Engineering UGM from Department of Civil Engineering and Architecture.