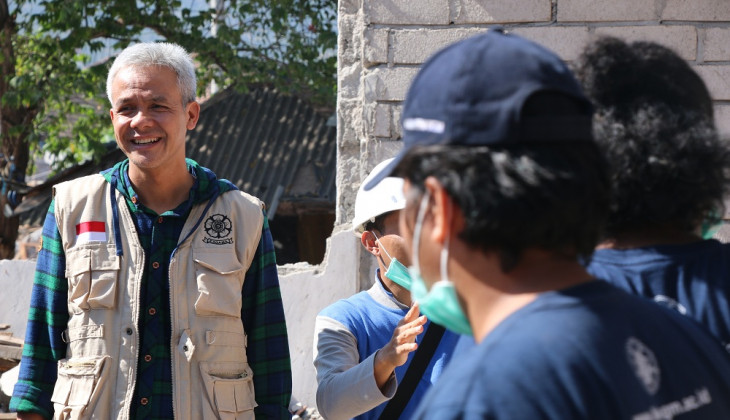 Chairman of Gadjah Mada Alumni Association (KAGAMA) and Governor of Central Java, Ganjar Pranowo, observed the location of post-disaster transitional housing built by students of UGM Disaster Response Community Service at Karang Pangsor, Bangsal Village, Pemenang, North Lombok, on Monday (9/4). With the assistance of the Transportation Ministry, a total of 50 houses are built in two sub-villages, Karang Pansor and Karang Petak.
Aside from the observation, Ganjar also talked over the project with local villagers. He had to pass through the alleys where the roads were covered by rubble, and houses were almost flattened to the ground.
He appreciated the students who helped in building temporary houses for the earthquake victims. Even so, he requested that students work together with the community in this project. "We need to work together so Lombok can rise again," said Ganjar.
Ganjar had asked the residents about the condition of their houses and whether they received help from UGM in this matter. Those who were asked said no and Ganjar responded firmly, "Just ask."
He then asked the Engineering UGM lecturer, Ashar Saputra, ST., MT., Ph.D., as to why not everyone received the help. Ashar explained that the transitional housing was only intended for 50 house units selected based on the village head's recommendation. Upon hearing this, Ganjar said he would talk to the Public Works and Housing Minister to turn the project into a government program.
Ashar informed Ganjar that the concept was to replace the old buildings with temporary houses in the same location. "What we build are frames and roofs, while the walls will be built together with the residents," he said.
Previously, Ganjar Pranowo and his team chose to spend the night at the UGM post in Gumantar Village, Kayangan, North Lombok, on Sunday (9/2). In the following morning, he visited the students who were teaching hundreds of elementary students in tents transformed into emergency schools. "We used semi-permanent tents to teach students in two sessions, morning and afternoon," said UGM International Relations student, Adam Chaesar.
Chaesar stated not all teachers have returned to school to teach. However, some have actively participated in teaching and learning activities in the emergency schools. "We teach fun things because some students are still in trauma."