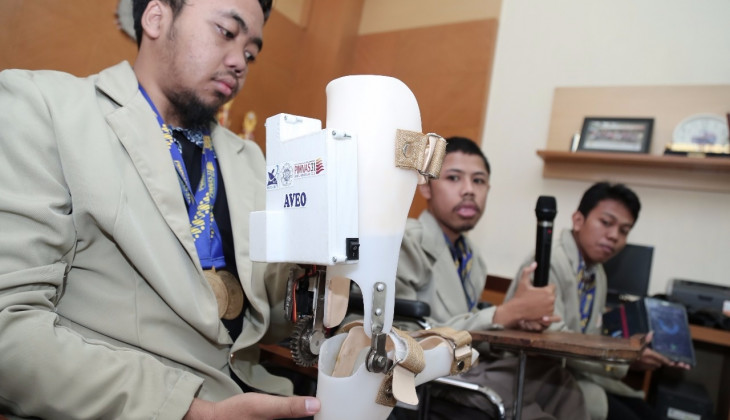 Three UGM Vocational School students have made an innovation in health technology, which is shoes to prevent ankle contracture in people with paralysis.
It even has earned 2 gold medals during the National Student Scientific Week (PIMNAS) from 29 August-1 September 2018 at Universitas Negeri Yogyakarta (UNY).
The students are Muhammad Fahmi Husaen (Computer science and Information System), Danar Aulia Hasan (Metrology and Instrumentation), and Widiyanto (Computer and Information System).
The Aveo (Achilles Physiotheraphy Orthosis) tool started from Fahmi's own experience that suffers from DMD (Duchenne Muscular Dystrophy), which reduces the muscular function, hence paralysis.
Having received no physiotherapy for his ankle before, Fahmi's ankle muscles became stiff. This condition is called as ankle contracture due to stiff muscles. But the case had actually inspired him to make a tool that can prevent the disorder.
"We have developed shoes that can give automatic movement like physiotherapy so these can prevent ankle contracture," he said in a press conference in Fortakgama UGM on Friday (7/9).
Under the guidance of Budi Sumanto, S.Si., M.Eng., the three students made the Aveo shoe since April 2018. It uses servo motor as main driver, connected to Arduino Nano based controller. Installed with Gyroscope and Accelerometer sensors to predict joint movement if it is already maximum when using automatic mode.
"The shoe can be controlled with android smartphone apps where users can set the degree of tilt and speed. It can move the ankle by 20 degree upwards and 45 degree downwards," said Fahmi.
Danar added Aveo shoe has two parts, the first supporting the lower leg and calf, the second supporting the leg. Both parts use polyethylene plastic that is connected with aluminum hinge and servo motor as driver. It uses 7.4 Volts batteries.
"In regular physiotherapy it takes 30-60 minutes to treat a patient, but with the Aveo shoe, it will take just around 15-30 minutes," he said.
The shoe also makes independent physiotherapy possible.
Widiyanto added they were working to improve the shoe to meet medical tool standards and adding sensors to detect muscle movements.
"It cost us as much as Rp2 million to make the shoe, but if produced in mass, the cost can be reduced down to Rp1.5 million," he concluded.