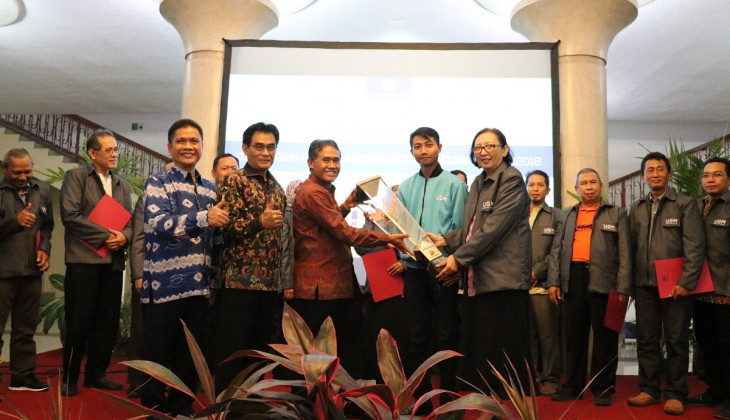 UGM welcomed the UGM students on Monday (10/9) in Balairung UGM that had taken part in the 31st National Student Scientific Week (PIMNAS) to appreciate their success as general champions of the competition.
Dr. R. Suharyadi, M.Sc., Director of Student Affairs, said "From the university leadership, lecturers, students and alumni, we are all proud of your achievement."
According to Suharyadi, this was in consideration of the efforts made by the students. "The journey undertaken by the contingent is not easy to be able to lift the Adhikarta Kertawidjaya trophy," he said.
He said the contingent had started work since a year ago when drafting the proposal for the Student Scientific Week. "Here UGM sent 700 proposals to be selected by the Higher Learning Directorate," he said.
Later, as many as 227 proposals from UGM went through to the monitoring and evaluation phase. Finally, 13 UGM teams were entitled to represent UGM at the national competition at Universitas Negeri Yogyakarta from 29 August – 1 September.
The 13 teams joined a bootcamp in Salatiga Central Java from 12-14 August for intensive training. Suharyadi said, "During the bootcamp, synergies between lecturers, supervisors, officials and students were strengthened, while strategies were planned," he said.
Dr. Med. Indwiani Astuti, one of the supervisors, agreed on the statement, saying that the bootcamp was a moment when the commitment of all became serious.
Indwiani mentioned the students had a high spirit for the competition and not easily given up. They also met various challenges but were able to get back up and move forward.
Rector of UGM, Prof. Ir. Panut Mulyono, M.Eng., D.Eng., appreciated the hard work of the contingent. He hoped this would be a lesson for them to learn for the next competitions.
"Let us maintain this synergy for the future so that the Adhikarta Kertawidjaya trophy remains at UGM for the years to come," he said.