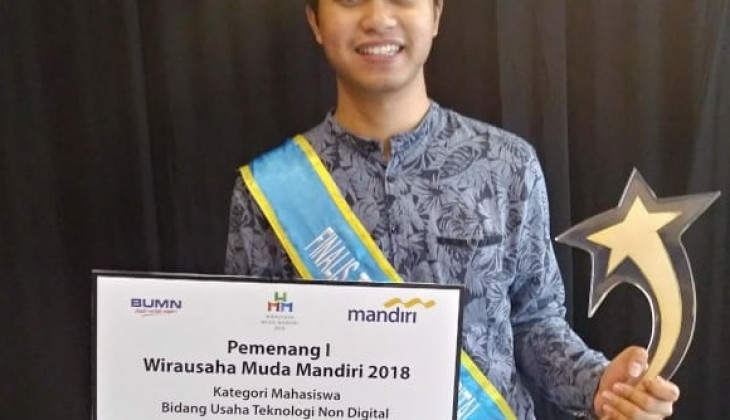 Starting from a garage that was converted into a small office, four UGM students made an innovation in hardware by the name of Majapahittech that has earned an award in the Independent Young Entrepreneurs (WMM) competition for non-digital technology category.
In Malang, East Java, on Saturday (15/9) the Majapahitech team beat over 100 participants and was entitled to earn a business capital worth IDR100 million.
Alwy Herfian, founder of Majapahitech, said he was thankful their business idea in non-digital technology could win the most prestigious business competition in Indonesia.
"I was very excited and I would like to dedicate this win to my team Majapahitech that has worked hard since 2016 to build the business," Alwy told journalists on Monday (17/9).
As is widely known, services business in hardware innovation has entered the IoT (internet of things) and AI (Artificial Intelligence). Majapahittech was founded by four students: Alwy Herfian S, Tri Yunianta, Bruno Fandi Adi and Arrijaal Habiburahman. They started out by taking part in the Innovative Academy (IA) competition hosted by UGM. They passed the selection phase and were given training and coaching by the university in addition to funding assistance for operational and development.
When asked about their business partners, they said they had collaborated with eight partners that generated IDR1 billion in revenue until end of the year. "We have been collaborating with eight partners, and by the end of the year it is estimated that the business value reaches as high as 1 billion," he said.
It was not easy for them to win the competition because they had to present their business to the panel of judges. The Math and Natural Sciences student said the benchmark of their value included innovative ideas for the future, business revenue, team profile, and team management. "These include things like who we have partnered with and how to resolve problems," he said.
Currently, their business has 19 members to help with the business development.
Alwy, born in Gunungkidul Yogyakarta, is the older of two children of a civil servant. Formerly, his parents did not allow him to enter technology business. "Initially, they did not support my business, my parents wanted me to be a civil servant, too." he said.
Alwy said his interest in IT had started four years ago. "I got to like IT by early 2014. In 2013 I was a student of Engineering at UGM, but dropping out at the second semester because I was so stressed out. In 2014 I got admitted once again at UGM but at Electronics department, so I could deepen my knowledge in IT and hardware," he said.
Going forward, Alwy said he and his business partners would always be committed to developing their business. "We will continue to move the business forward, more productively make innovation, and expand coverage," he concluded.