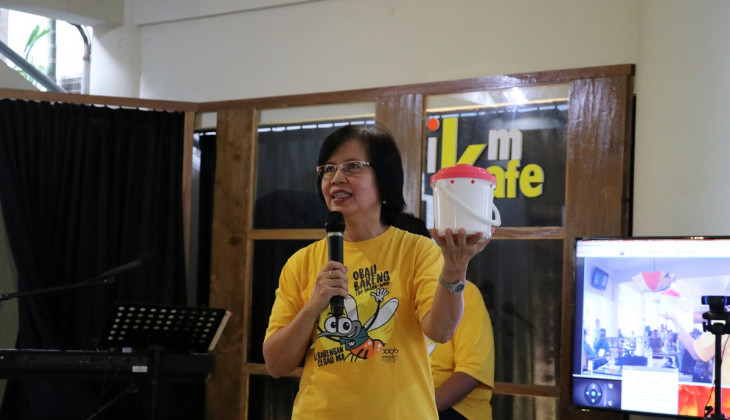 World Mosquito Program (WMP) Yogyakarta held a talk show entitled Goyang Bareng Wolbachia on Friday (9/14) at IKM Cafe, Faculty of Medicine, Public Health, and Nursing UGM. Presenting the concept of casual discussion with musical interludes, this event aimed to introduce an alternative treatment of dengue fever using natural bacteria called Wolbachia.
Prof. Adi Utarini, a researcher of WMP Yogyakarta, stated the method has been developed since 2011.
"Australian scientists started this research in 2010, and were joined by UGM in the following year with the support of Tahija Foundation," said Uut.
Uut explained Wolbachia are natural bacteria found and grow in insects, including mosquitoes. If introduced into the Aedes aegypti mosquito that transmits dengue virus, Wolbachia will reduce the risk of virus transmission when dengue-carrying mosquitoes bite humans.
Then, she added, the bacteria can be passed down from one mosquito to another through reproduction. "Female Aedes aegypti mosquitoes with Wolbachia in their cells will transmit the bacteria onto the offspring. In contrast, if male mosquitoes are the ones with Wolbachia, the eggs will not hatch."
Therefore, Uut said, the current target of WMP Yogyakarta is to release mosquito eggs that carry Wolbachia bacteria to dengue-prone areas in Yogyakarta.
"We put the eggs in buckets and distribute them to people who need it."
She reported that the distribution has been conducted since 2014 in Yogyakarta. In fact, the WMP has an insectarium for mosquito breeding located at Sekip N-14, UGM compound. "The only challenge is to get the community's approval regarding the distribution."
To date, the WMP has made different approaches to the community including dissemination, art, and sports events. "For instance, using mural arts as media in Kricak Village, Yogyakarta," she said.
It was confirmed by Ranggoaini Jahja, WMP Yogyakarta's Chairman of Media and Communication. These efforts, she opined, are the WMP's innovations to involve the community directly in this program.
"The conventional way considers people as a mere object of research loaded with various research information. On the other hand, we want to make them as subjects who also own the program," stated the woman often called Nike.
Nike hoped that if the program succeeds, the government can help to spread it to other Indonesian regions. "We are here to prove that our research has been implemented effectively in Yogyakarta. After this, the government can set it as a national-scale program," she concluded.